We have put together some important things to know before you go to the Philippines. We feel this is significant information, which you will need to know before you plan your next trip to this amazing country.
---
*This post might contain our affiliate links. This is at no extra cost to you, but you would be doing us a solid if you did use them. It shows us your appreciation after we have written this amazing travel guide for you 😏*
---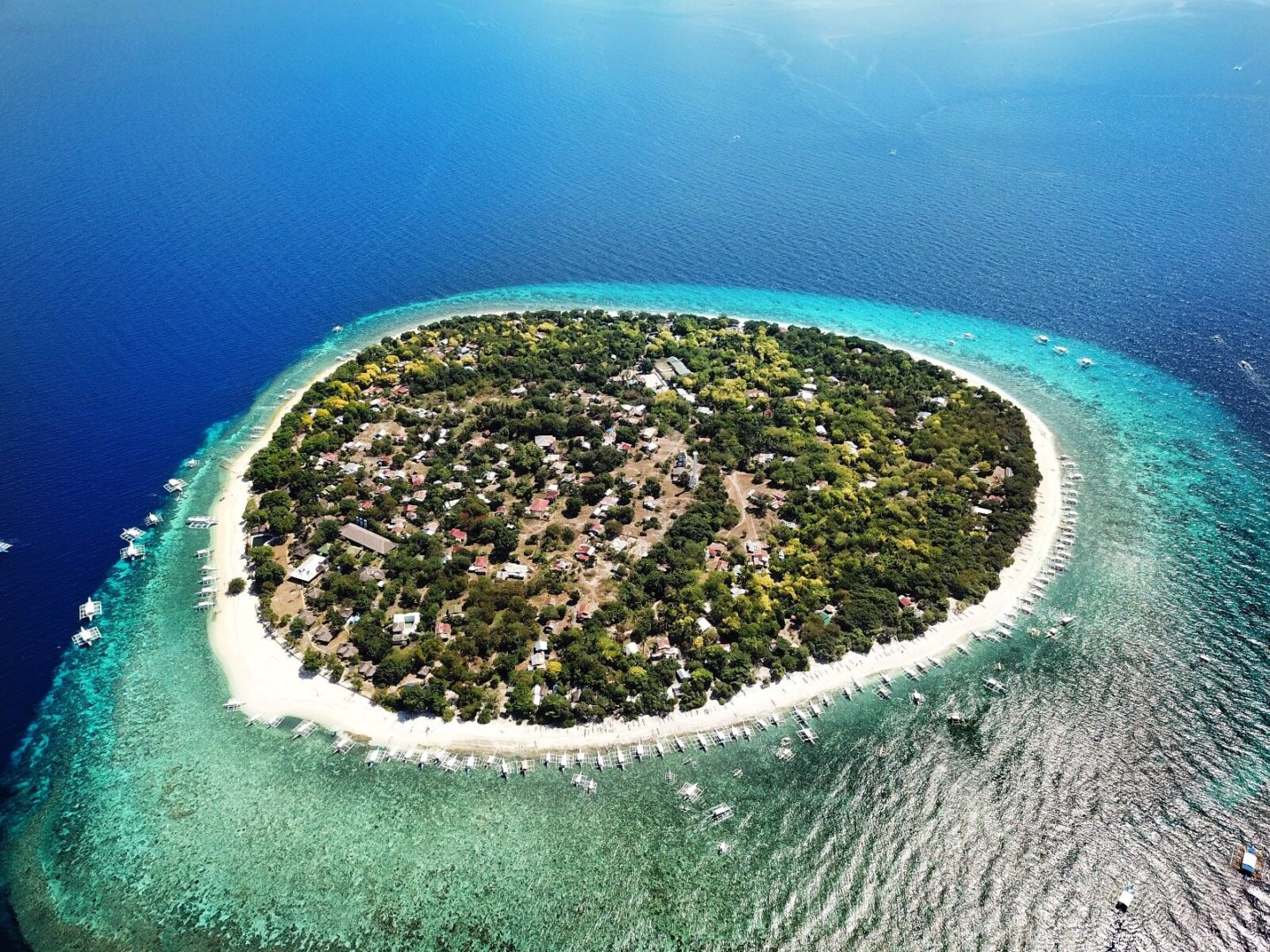 When is the best time to go to the Philippines?
The Philippines is a tropical country made up of over 7000 islands. The weather can vary from island to island. The average wet season in the Philippines are between May-October. During this wet season the country is prone to Typhoons, which has devastated the country in recent years. Temperatures are highest in March and April.
What we would recommend
The best weather between December and February. These months are some of the busiest so if you want good weather and fewer people, we suggest late April or November.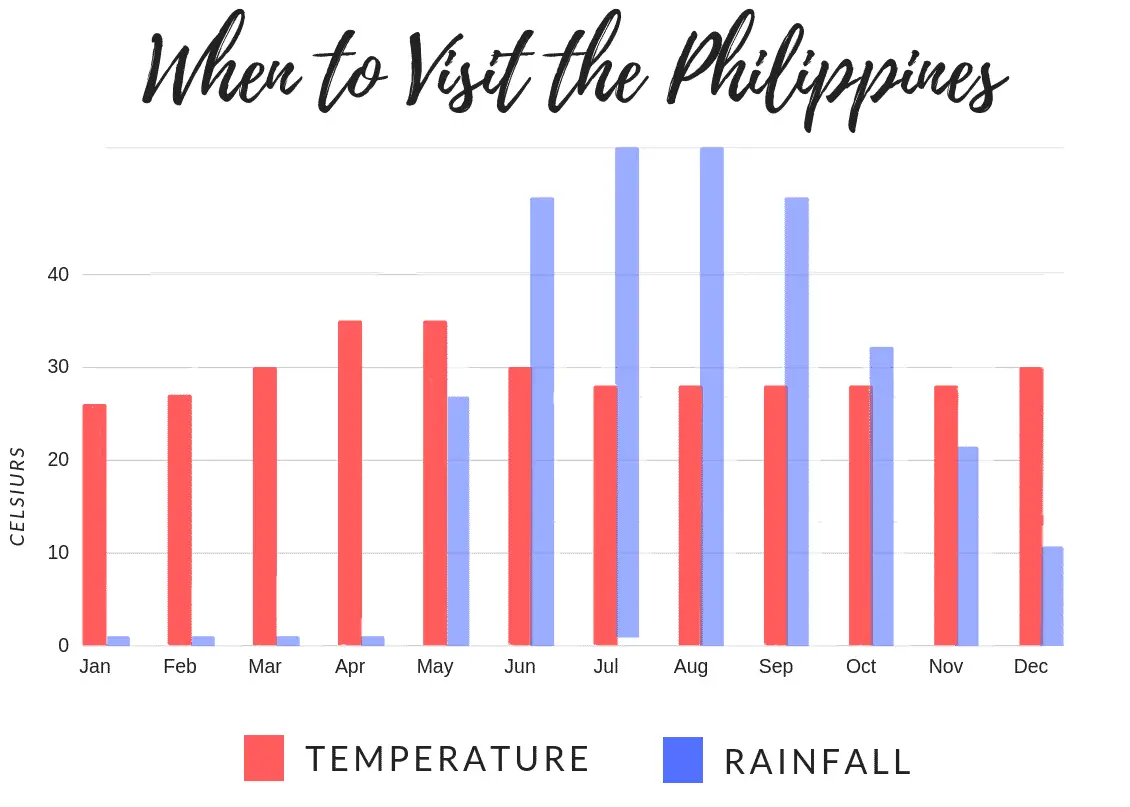 What is the currency in the Philippines?
The currency in the Philippines is the Philippine peso.
Cards are only regularly accepted in the major cities. Therefore you will be using mainly cash for your purchases. To save carrying around bundles of cash everyday we would recommend booking your accommodation online with your cards. If you do want to use cash there are ATM's in most towns. Be aware they run out of cash very quickly and are regularly out-of-order🏧
Before you leave for the trip to the Philippines you will want to get some cash. When you go to your local travel agent be aware you may need to order this currency in as they do not always stock it behind the counter💵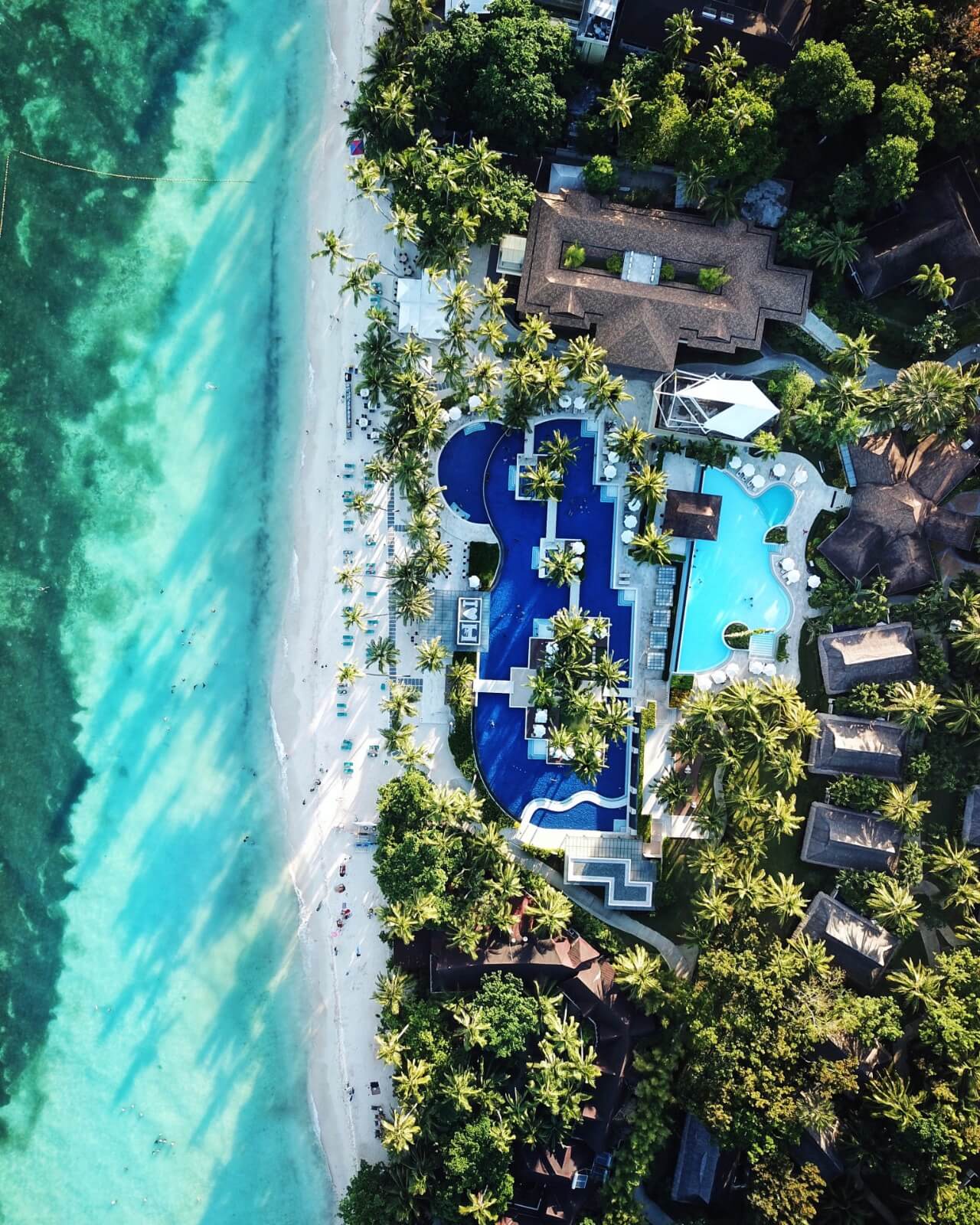 How much money will I need in the Philippines?
We can only speak as backpackers on this subject.
Accommodation 🏠
Hostels range from £5-£20 a night depending on where you are and which size dorm.
Click Here to get all the top to date hostel prices.

Food 🍍
We spent roughly £20 a day on food for two people. You will have to factor in that you will be eating out 3 times a day while you are here. Additionally if you like to drink alcohol it is easy to start drinking your budget away. If you stick to the local dishes and street food you will be able to keep your budget down compared to eating in western style restaurants.
Trips 🏄‍♀️
Cost of trips can vary a lot! You can walk along a road and speak to 5 different people offering the same trip and end up with 5 different prices. Make sure you HAGGLE! The tour operators will always give you a much higher price on the basis you will haggle with them to get the price back to the usual price. Another tip if to book 2 or 3 trips through the same tour company. This way they will give you a bigger discount.
The tours can be between £10-£30 each. This depends on the tour what sort of tour you are on, and if you are going on a group or private tour.
Another point to note is El Nido is a lot more expensive compared to the rest of the Palawan. An island hoping tour in Port Barton is roughly half the price of the El Nido trip. That being said we would highly recommend doing both if your budget allows you too.
Alcohol 🍾
Alcohol prices in the Philippine are cheap. The average cost of a local beer is around £1, with the price of with Rum being cheaper than the Coke to mix it with.
What we would recommend
For a couple an average £50 a day would allow you to live very comfortably.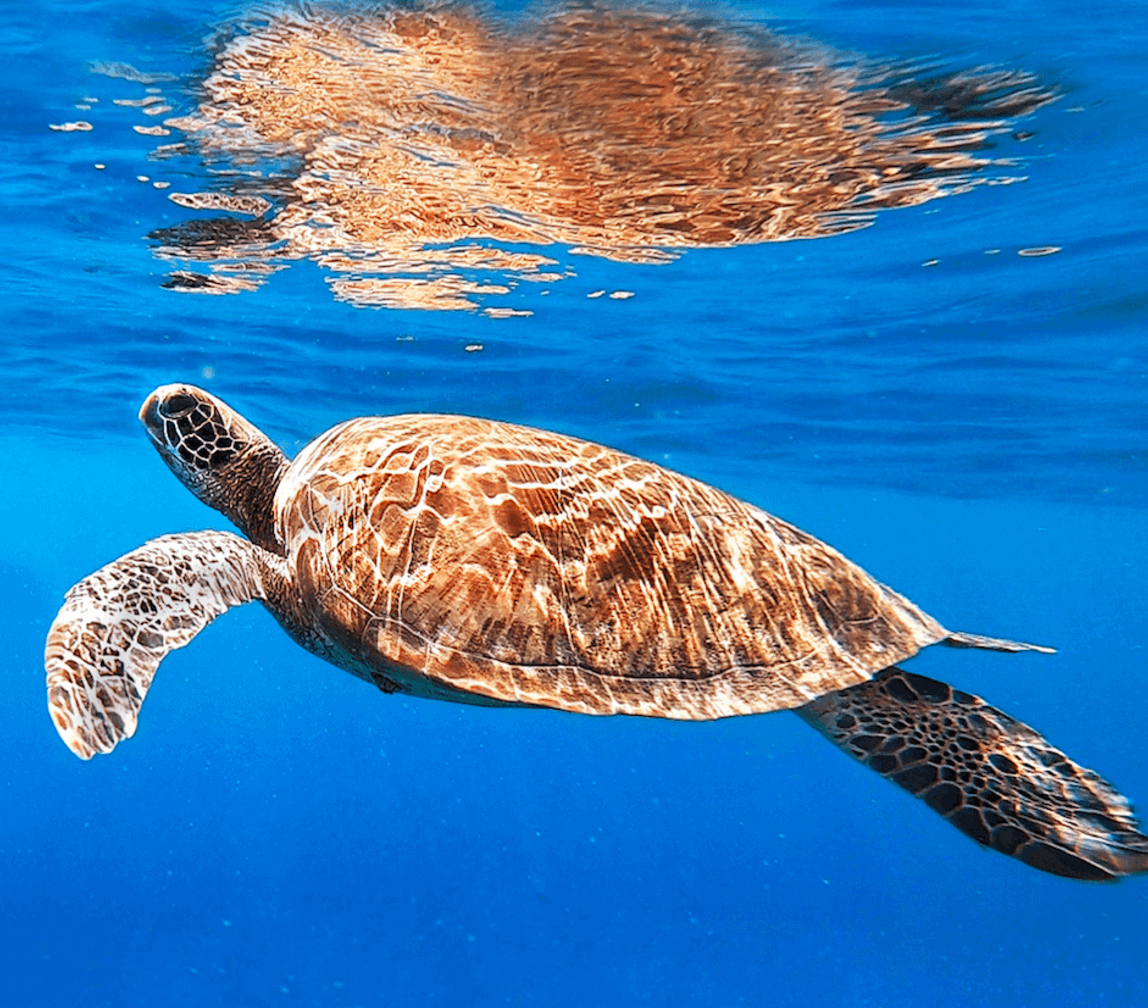 Getting around in the Philippines 🚕
Jeepney
Depending on your budget, you will experience a variety of transport around the Philippines. The most common public transport is the Jeepney. A typical Jeepney is an old military jeep left over from world war II. The locals have then converted these jeeps into a slightly more modern say bus. You will notice their bright colours and very over the top accessories. Jeepneys are the cheapest form of transport and very popular with the locals which means they can get very cramped. If your travelling with all your luggage it probably isn't the best form of transport to use.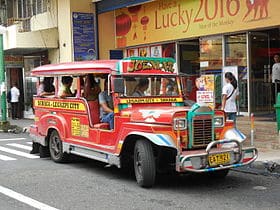 Taxi 🚕
Another way to get around in the Philippines is by taxi. There are three types of taxis you can take. The first is a metered taxi which we would highly recommend. The prices are often the cheapest and at a fix rate. When leaving the airports or ports do not get in the first taxi you see. Check with the driver before you get in that they are metered and tell them where you want to go before you hop in.
The second type of taxi is non-metered. These guys loiter everywhere and will pester you like crazy to get in their cab. These taxis charge on a fixed price that you agree on before you get in. They are often twice as expensive as a metered unless you can haggle well and knock them right down.
The major cities such as Cebu or Manila use Grab which is just like Uber. They are by far the cheapest taxi you can get. The only down side is that they are limited to the big cities.
Bus 🚌
By far the cheapest and most reliable way to travel around the Philippines. As bus services go the local Ceres bus are brilliant. The buses are easy to spot as they are bright yellow.  You have an option of air con or no air con. Typically the first bus to pass will be non air con followed by the bus after being air-condition. This time-table continues through out the day. Note that the air-conditioned buses are slightly more expensive, but were are talking about an extra 50p which is well worth the money.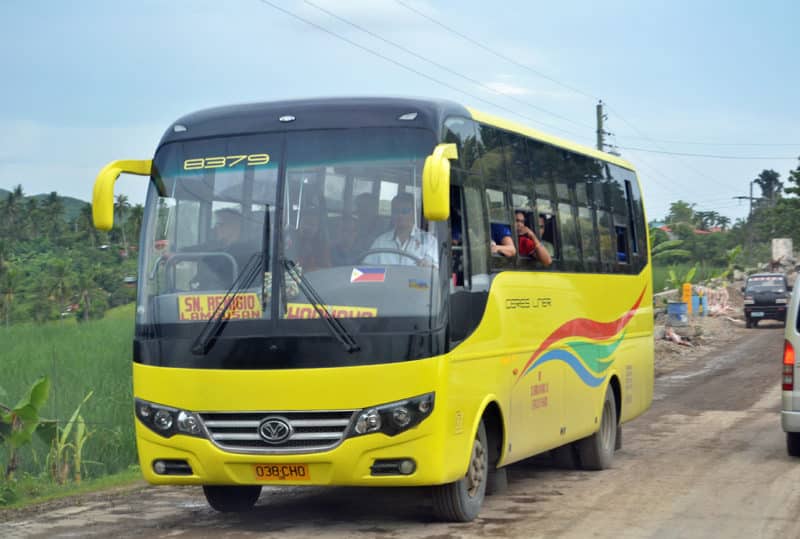 To check out the local busses and the up to date time-table we would recommend using thew Rome to Rio app or website. This will send you to the most up to date times and locations of the bus terminals.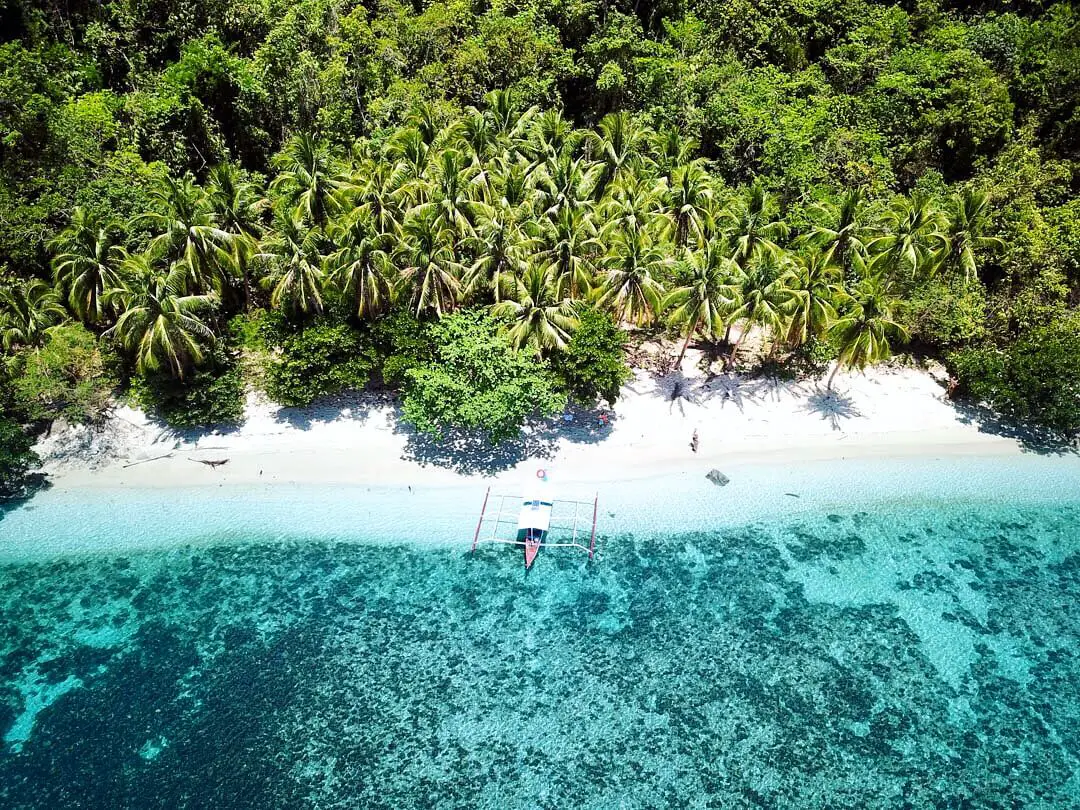 Religion ⛪
Most of the Philippines are incredibly religious with the dominant religion being Christian. Olly was often referred to as my husband and I was his wife. If you are visiting building that require you to dress a certain way then please respect that.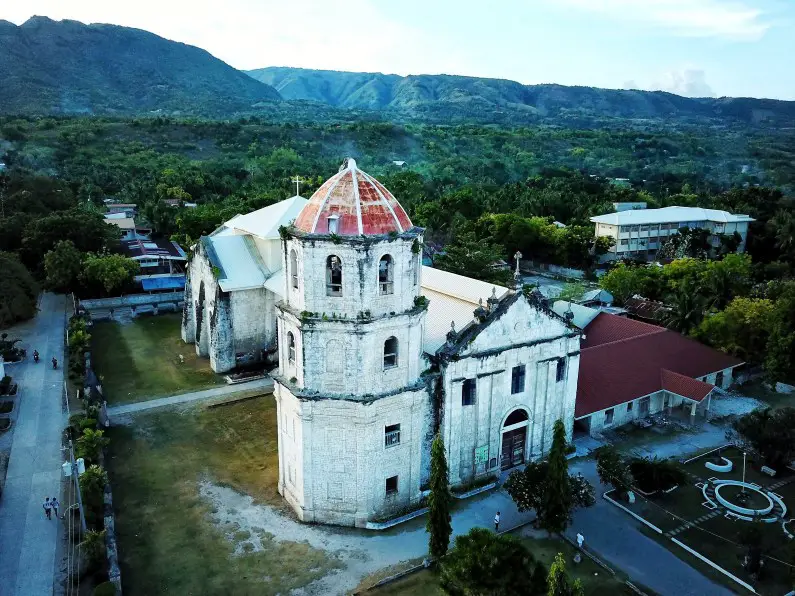 Safety 🆘
With religion being a huge part of the Filipino lifestyle, there are some civil conflicts occurring throughout the country. The photo below has highlighted red areas which are high in terrorist activity. As of 2018 the government website has this statement for the Philippines.
 The Foreign and Commonwealth Office (FCO) advise against all travel to western and central Mindanao and the Sulu archipelago because of terrorist activity and clashes between the military and insurgent groups. The FCO advise against all but essential travel to the remainder of Mindanao (excluding Camiguin, Dinagat and Siargao Islands) and to the south of Cebu province, up to and including the municipalities of Dalaguete and Badian, due to the threat of terrorism.
Having said that the Philippines is a very safe place and there has never been a time where we felt unsafe or concerned about where we were. The Filipino people are some of, if not the friendliest people in world. They are always welcoming and offer to help you when ever they can. Do not be put off by the government warnings. This is subject to just a small part of the 7000 islands that make up the Philippines.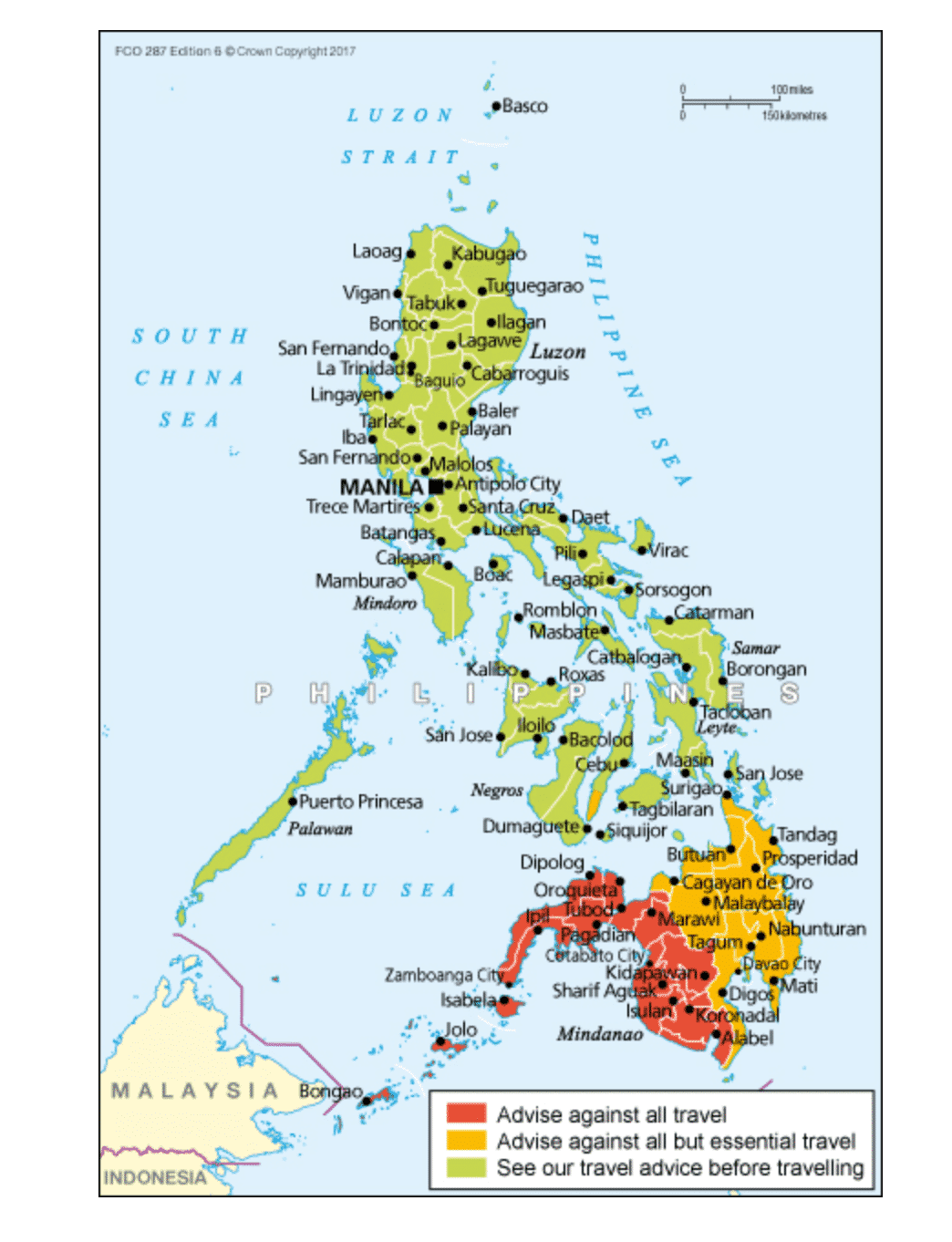 Full PFD of the photo above can be found here.
If you have any questions on the Philippines we would love to help you out. Leave us a comment below or follow us on any social media.
Pin this for later!