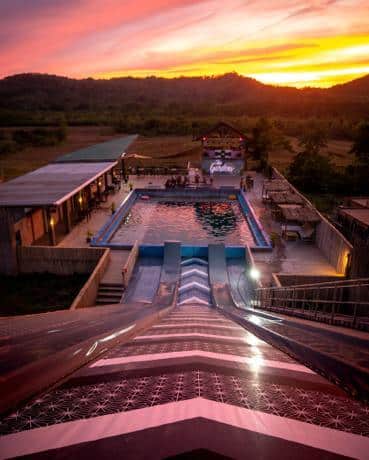 The Water slide in El Nido is one of the best days on land you can have in Palawan. Take a break from the boat tours and island hopping and party hard, with all you can drink for 500 Peso (£17). Not to mention the main attraction, the 35ft tall water slide 💦 Drink and dance around the pool all day long, while DJ's perform and if you dare, slide and fly!
---
This post might contain our affiliate links. This is at no extra cost to you, but you would be doing us a solid if you did use them. It shows us your appreciation after we have written this amazing travel guide for you 😏* 
---
Jump to
⚠️ Safety 
😱 SEND IT
🍔 Food 
📍 Location 
🛏 Hotels
What To Expect At The Water Slide In El Nido? 🍹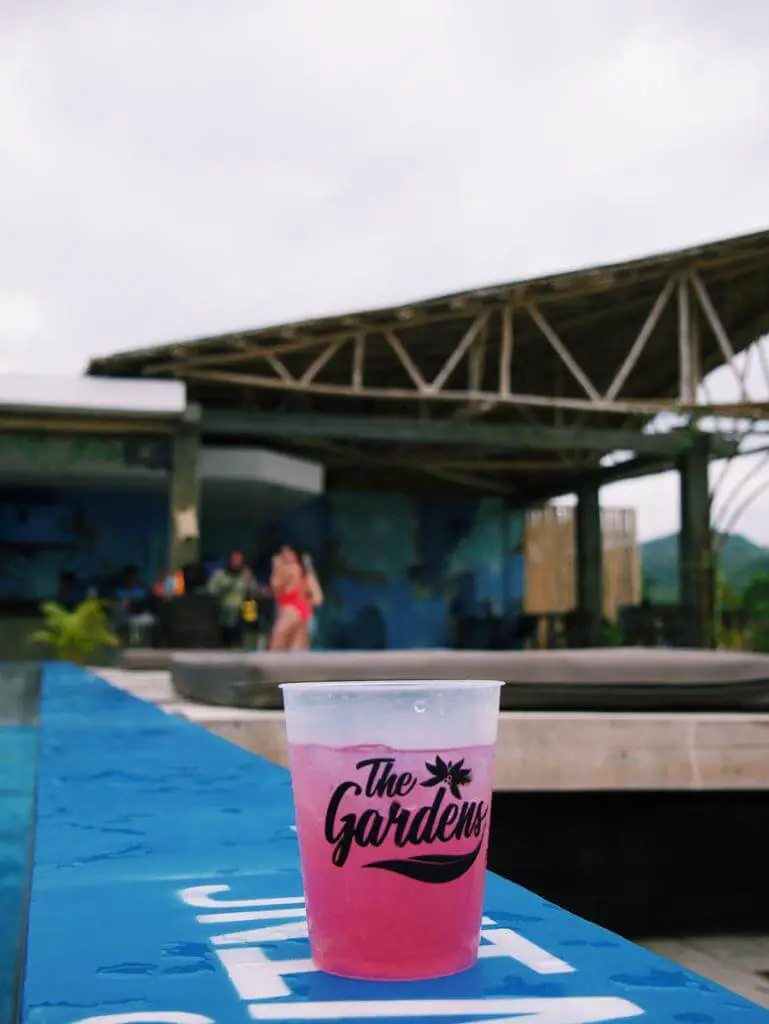 When we first arrived at The Gardens Day club, there was one other group there who had full rein of the slide and were keen to show us their best tricks. You will pull up into a small car pack, which has shaded areas for those with mopeds and approach the ticket office. The entrance fee is 500 peso which gives you unlimited access to the slide and unlimited drinks. The Gardens is a day club, so expect lots of drinking, dancing, music and some epic fails on the slide!
Is The Water Slide In El Nido Safe? ⚠️
The slide is completely safe if you are not an idiot. If you are facing the slide, the left slide is slightly lower, while the right slide sends you higher into the air. The only way you could hurt yourself on this slide is if you fall up the stairs.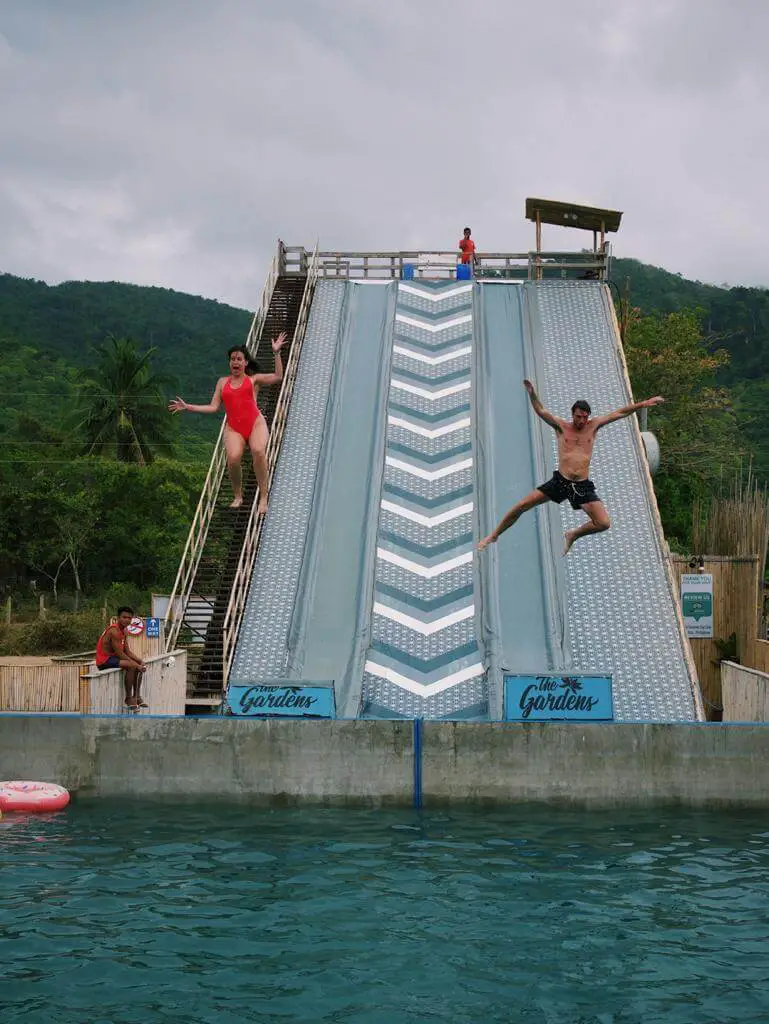 Unfortunately, as the slide is 35ft tall, there are a lot of stairs. Lots of stairs means more time to think about what you are about to do and maybe chicken out! But if we can do it, then so can you.
Sometimes people's landings are questionable. When I went down the slide, I belly-flopped into the pool and ended up bruising my thighs. Others did come away with bruises the next day, but with the unlimited drinks, comes delayed pain.
SEND IT – Our top Technique 😱 
You have to go down the slide on your front due to the curve of the slide. This means you can try and control your landing, hopefully. I was so scared going down the slide, I went after 5 drinks. This meant that by the time I jumped on, I was already flying through the air without time to think. Olly however, managed to land in somewhat of an ok position.
Chin-up
This will encourage your body to turn so you don't face plant.
Stop waving the arms
Your arms can't help you now, try and use your core to pull you backward.
When Is The Gardens Day Club And Water Slide Open? ⌚
This day club, officially called The Gardens day club, is open Sun-Sat 11:00 – 19:00. 
Make sure you climb to the top of the slide just as the sun is setting to get this amazing view. They turn the water slide off 30 minutes before the whole place is closed.

Is There Food At The Water Slide In El Nido? 🍔
YES! Need something to soak up the alcohol and give you a good excuse as to why you're not on the slide? Grab a Burger from Pair-A-Dice Burger Bar. This is the sister restaurant to the other Pair-A-Dice Burger bar to the one located on Lilo Beach.
Chicken, beef, and veggie options are available here. They even do fried Oreos! They state that you are not allowed to bring outside food in, but we did bring our water.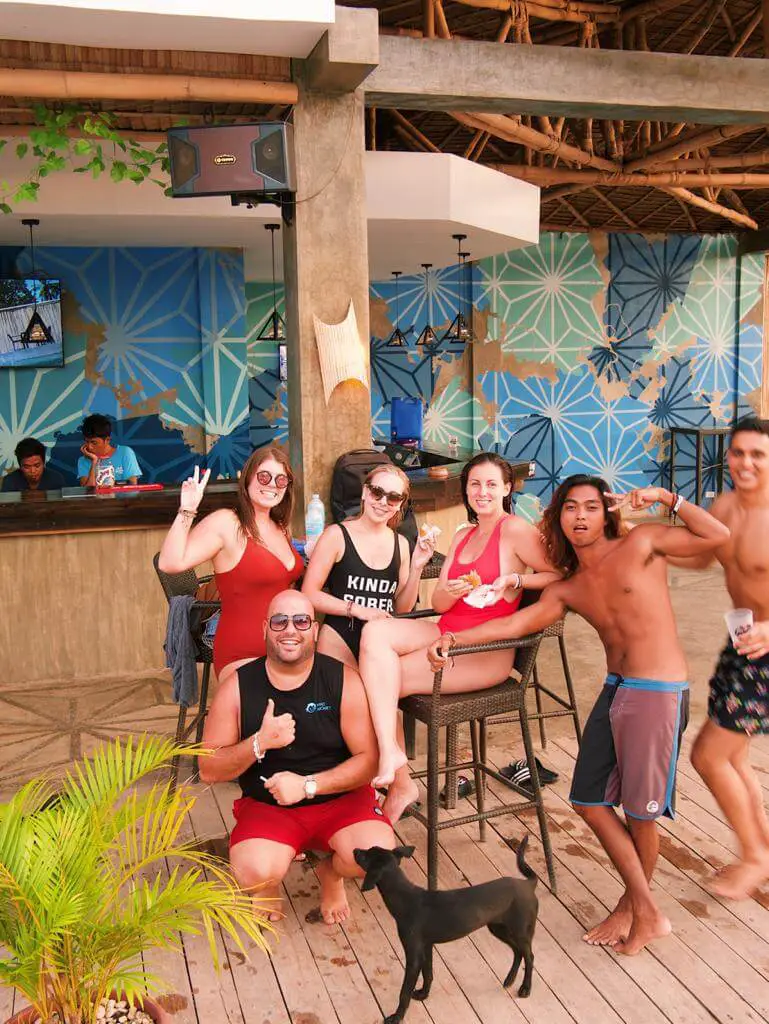 For those that would rather cocktails, than the unlimited drinks menu, see the whole menu below.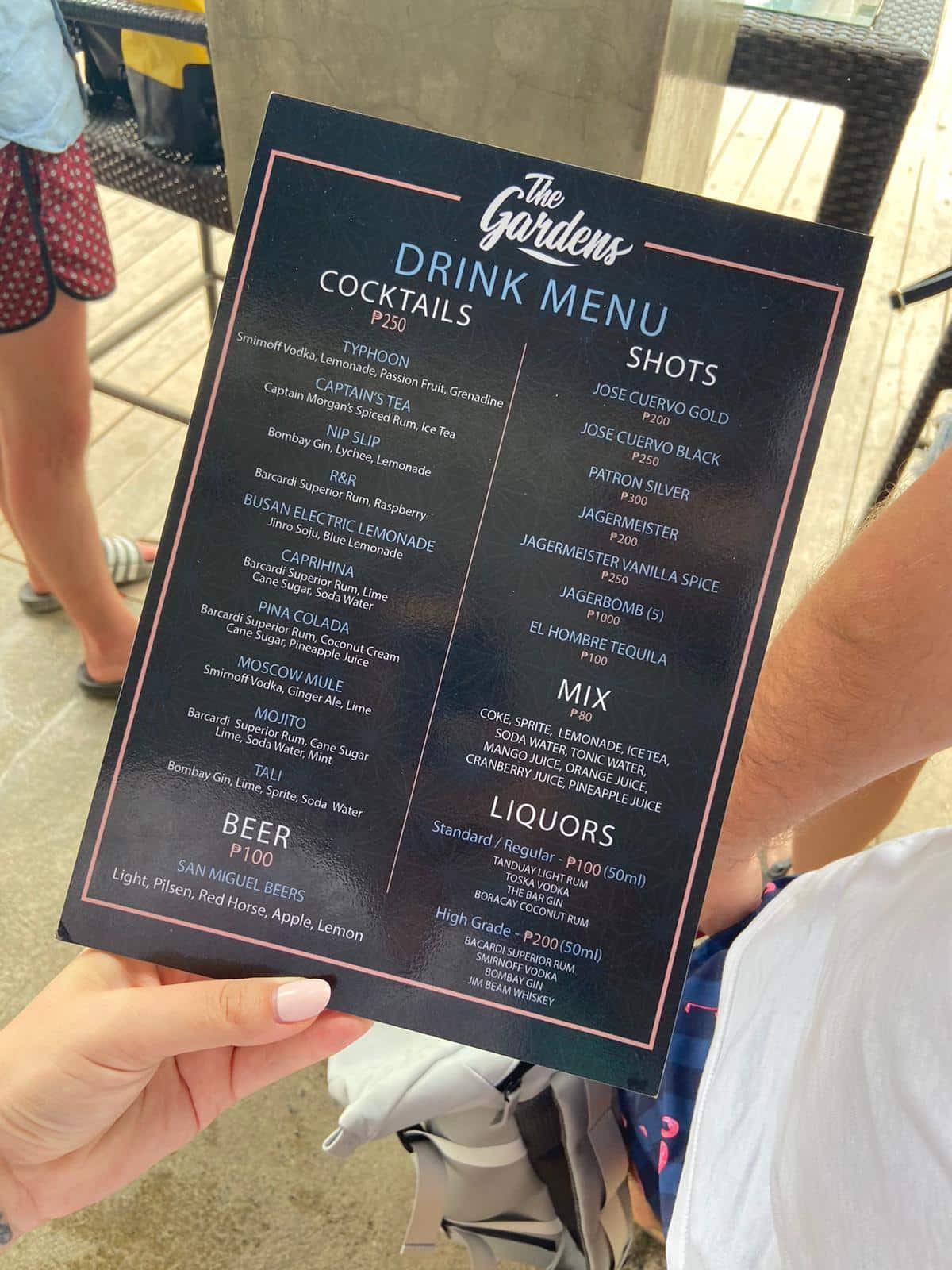 What Shall I Bring To The Water Slide In El Nido? 🧴
From what we saw, there are no safe places to leave items. We didn't bring anything valuable as we knew we would be getting drunk and end up losing it. We recommend the following items to bring to the water slide with you.
Swimming costume – Sorry no naked Nora's allowed.
Towel
Money for food
Change of clothes for home time, it can get colder at night.
Olly thought it would be a great idea to throw our poor friend Erin in the pool, little did he know her sunglasses were VERY expensive on her head and they sank to the bottom. Thankfully, the staff keeps a pair of googles behind the bar, for those able to dive down deep to collect lost items.
The water is salty and not the cleanest, so be careful not to drop anything in this pool as the visibility isn't great! Olly was super drunk but managed to find the glasses on the first dive, his life was spared.
Where Is The Water Slide In El Nido, Palawan?

If you are staying in the main town of El Nido, then the gardens are slightly further out than most attractions, it is a 40-minute drive. You will need to get a tuk-tuk here if you are planning on drinking. The roads are not the smoothest, so please do not drink and drive. There are no lights this far out so it's a dangerous ride back in the dark. If you are staying closer to Nacpan Beach, then this is just down the road!
Just along the road leading to Nacpan beach is where you will find the Water Slide in El Nido.
Address: Nacpan Beach Road, El Nido, Palawan, Philippines 
What Attractions Are Near The Water Slide In El Nido? 🏖️
The water slide is very close to Nacpan Beach, which is one of the best beaches in El Nido. Nacpan Beach is very popular with backpackers most of whom stay at the Mad Monkey Hostel on the beach. Although it isn't a great beach for surfing, it is a great place to try out skimboarding.
Also along Nacpan Beach you can find many restaurants, accommodations, and even a beach pavilion leading to Twin Beach. In the other direction, you can also explore the El Nido Paintballing experience.
What Restaurants Are Near The Water Slide In El Nido? 🍜
Sunmai Nacpan Beach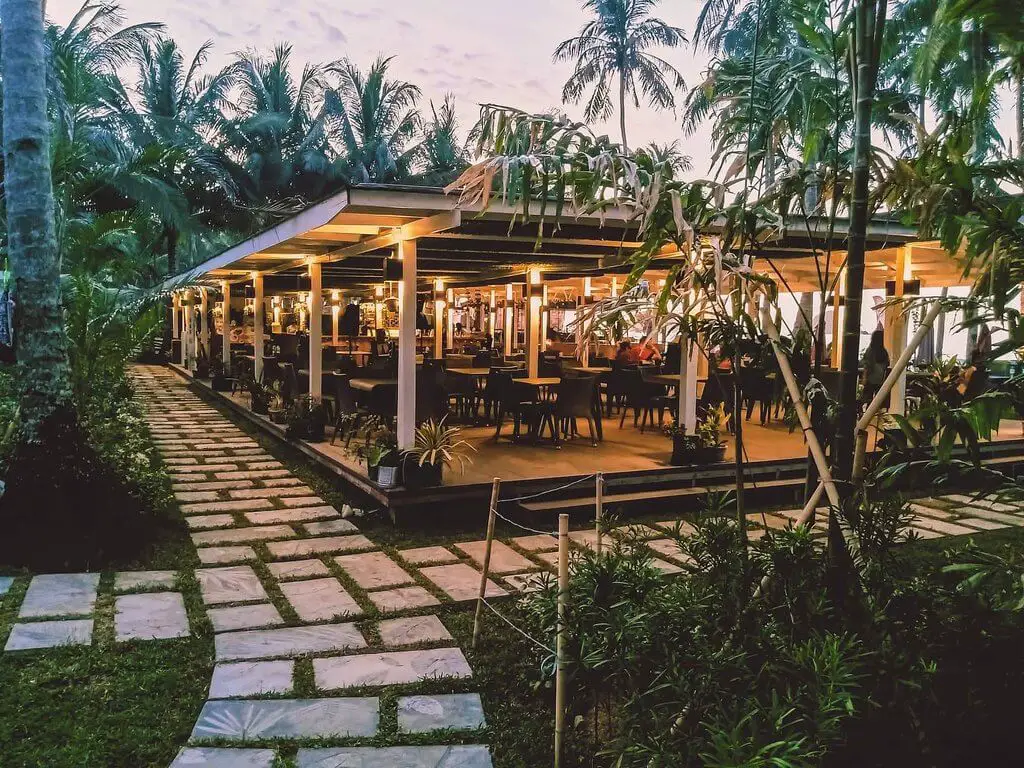 ⇢ Location 
RANCHOS BEACH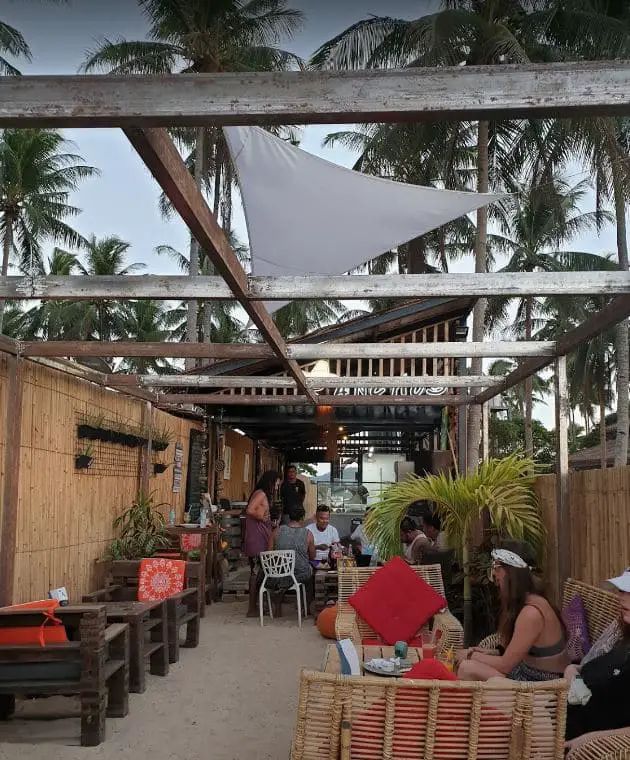 ⇢ Location
Hotels Near The Water Slide In El Nido? 🛏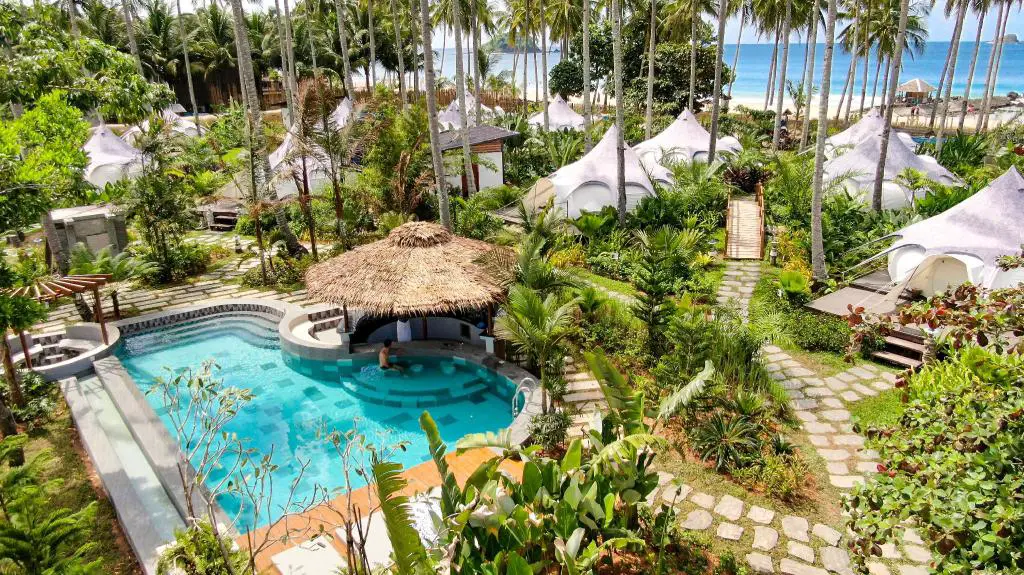 Hotels + Hostels In El Nido
If you are looking for the best hostels and hotels in El Nido main town then here are a few options for you.
Outpost Hostel (close to Las Cabanas beach)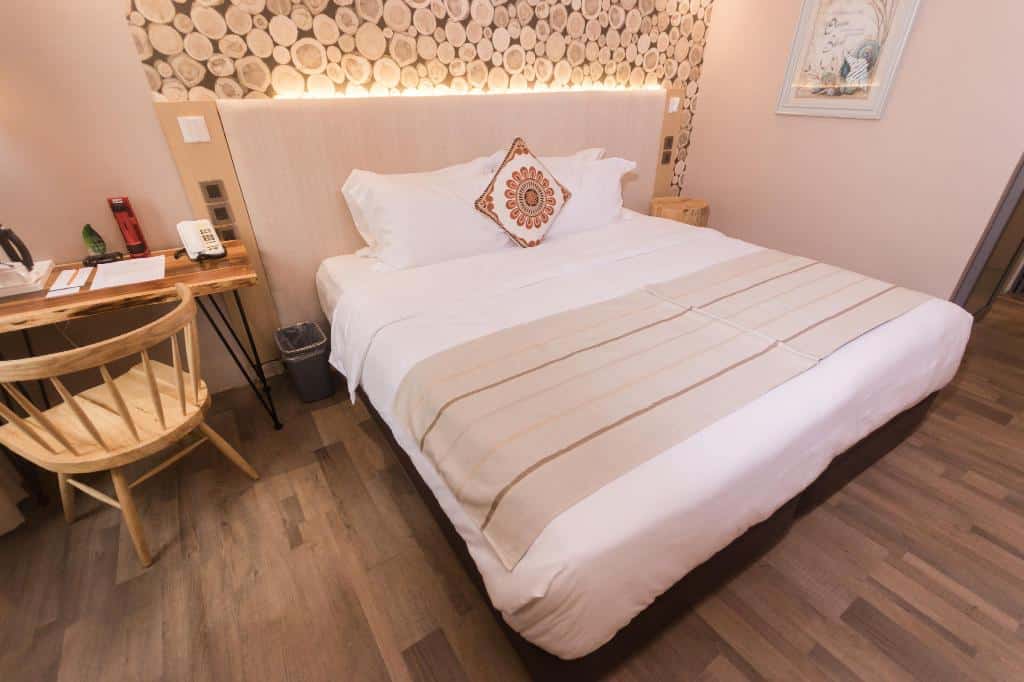 Upcoming Events At The Garden Day Club 🌝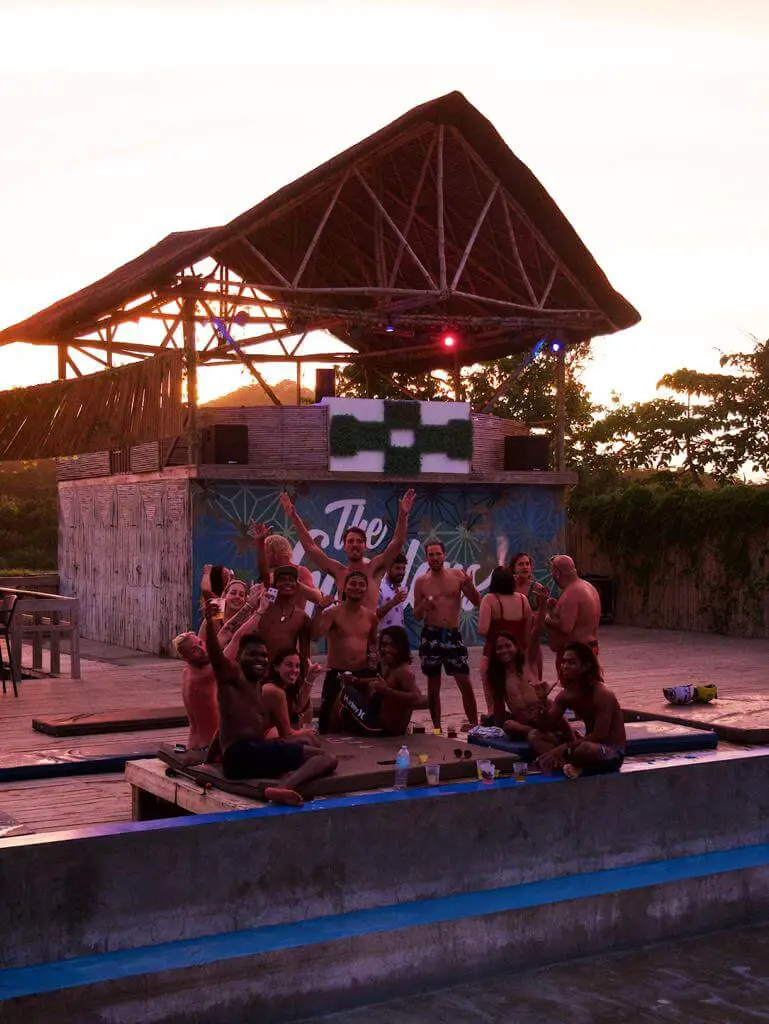 For all events at the Gardens, the best place to check is their Facebook page, which has all the up to date news.
You can find that here
Our Experience At The Water Slide In El Nido👣
We had a great time here when we visited in March 2020. It wasn't super busy, but we had the slide to ourselves without queuing or any wait time. We were also part of a big group, so it was nice to relax and not worry about losing people. We both ate here, as we needed to sober up at one point. I had the Chicken Burger which was ok, but Olly loved his veggie burger. The staff were super friendly and kept our glasses full all day. We have seen adverts for huge parties like the Full Moon Party here which look good.
El Nido Travel Tips ✔️
A few handy top tips to make you might want to know about El Nido.
Best Time To Visit The Water Slide In El Nido 🕒 
Like most of the Philippines El Nido has a wet and dry season. Luckily the dry is a lot longer than the wet, however, it is the Philippines so anything can happen.
December – May: The dry season the best time to visit El Nido.
June – November: The wet season, we recommend you avoid these dates.
Wifi & SIM Cards Philippines 📱 
The Wifi in El Nido is renowned for not being good, much like the rest of the Philippines. So most people rely on their phones. If you need to get a Sim Card whilst you are in the Philippines you can organize one right here.
Island Hopping El Nido 🏖
Island Hopping is one of the most popular activities in El Nido. For that reason, we recommend booking your tour sooner rather than later. Especially if you are planning on hitting up tour A or C.
Our Best Meal In El Nido 🍕
Although defiantly not the cheapest place on the Island, but in this case you get what you pay for. At the Altrove restaurant the food was out of this world. They defiantly serve the best pizza and pasta in town. They also have the same restaurant in Siargao.
Best Area To Stay In El Nido 🛏️
The most popular area of for backpackers is in the main town of El Nido, here you will find everything you need from bars and clubs, to healthy breakfast spots. If you are looking for something a little fancier than a lot of the resorts are found just outside the main town area.
Pin Our Ultimate Water Slide In El Nido Guide For Later
What Camera Gear Do We Use
Other Philippine Travel Guides