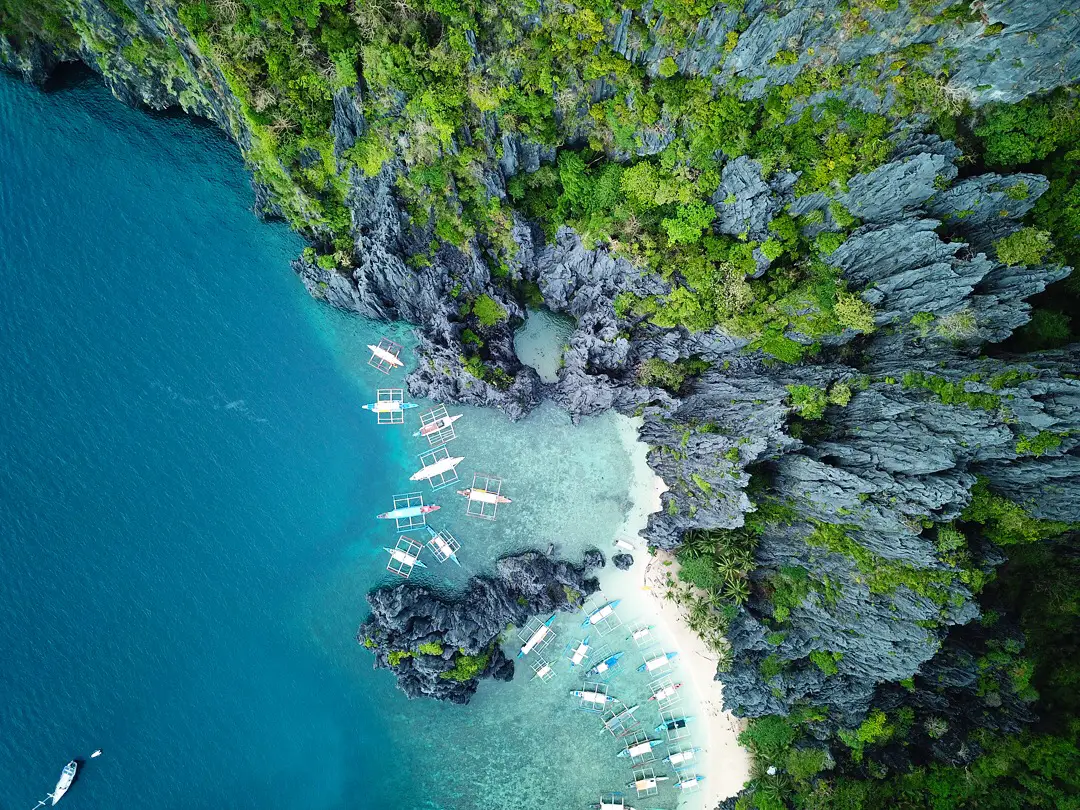 Planning your next trip to the Philippines but not sure where to go or in what order? Our Philippine Travel Itinerary has got your covered.
The Philippines is made up of over 7000 islands, this can make seeing everything challenging if you are on a time limit. Wether you prefer parties and beaches or rice fields and history, the Philippines will definitely have something to offer you.
---
*This post might contain our affiliate links. This is at no extra cost to you, but you would be doing us a solid if you did use them. It shows us your appreciation after we have written this amazing travel guide for you 😏*
---
Jump to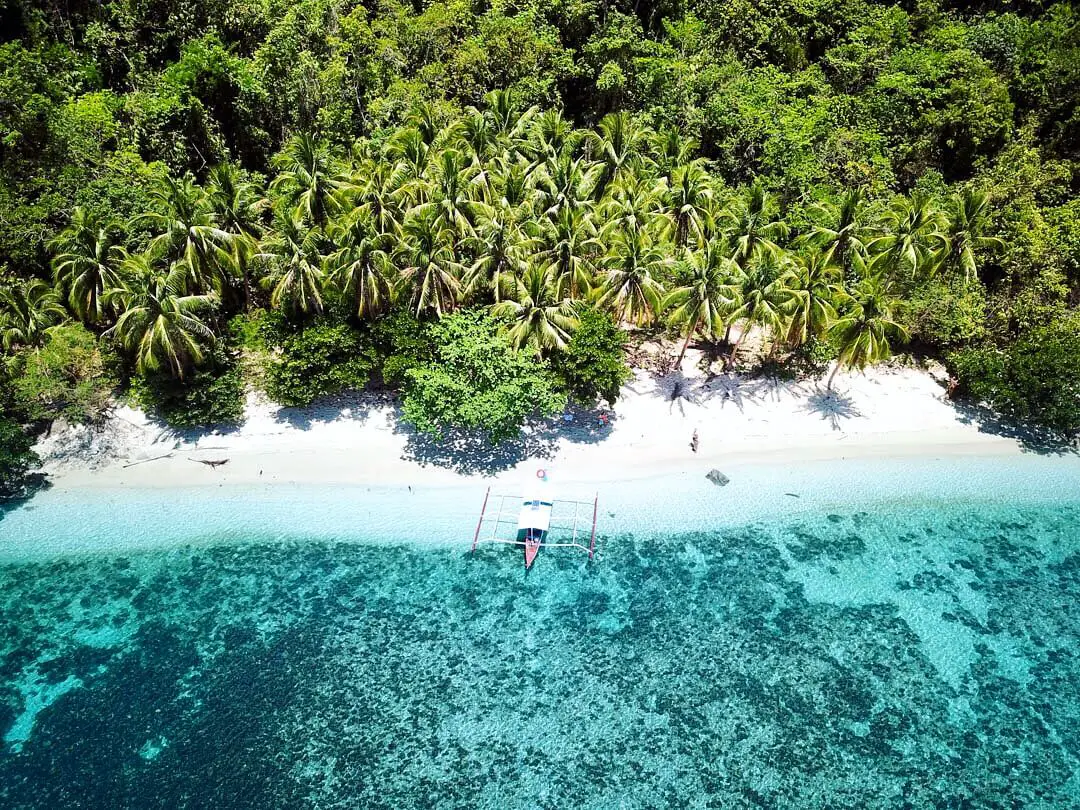 We would recommend anything between 3-5 weeks in the Philippines. This will enable you to take a slow pace around the country and enjoy it to the fullest! We would also recommend factoring in, a single day for travel to each new destination. Something else to take into considerations is that some hotels will only let you check in around 2pm.

Top Tourist Attractions 
We have outlined roughly the top tourist attractions for each area we have visited in the Philippines.
For an in-depth guide on each area click on the titles below.
Manilla – The capital city, mainly used as a hub to fly to other islands or to get to the Banaur Rice Terraces in the north of the island. 
Cebu –
This for us, is the adventure island. With lots of waterfalls and physical activity here, it is a must see for active people! On the South of this island you will find Oslob where lots of people swim with the whale sharks. To the West of the island you will find Moalboal which is famous for the sardine run, snorkelling and turtle swimming. Kawasan Falls and lots more waterfalls are also in this area.
Bohol – Accessible from Cebu city by ferry, Bohol is famous for the chocolate hills and the tarsier monkeys. Tagbilaran is the most popular area for tourists and it is where you can plan most of your trips around the island. There is a lot more to Bohol than just the chocolate hills, you can visit the other side of the island. Check out this guide for more info on that –>Click here.
Siquior – This island is very slow paced and relaxing with lots to explore and see. Instagram worthy waterfalls such as Lugnason Falls, Cambugahay Falls and Lagaan Falls can be found here, as well as Mt Malabahoc and Cantabon Cave.
Siargao– Want to try surfing? Siargao offers some of the best surfing around! Cloud 9 is world famous for surfers as well as the beautiful beaches.
Boracay – You want to party on one of the whitest beaches? This place is for you! You have 2 options, fly to Caticlan which is expensive, then get a 10 minute boat from Caticlan port over to Boracay or you can fly to Kalibo, which is cheaper, and take a 3 hour taxi & ferry to Boracay. The party island of the Philippines which is probably the most western island in the Philippines.
Palawan – Beaches and topping up the tan more your thing? Palawan is the most famous spot in the Philippines. home to island hopping, limestone cliffs and crystal clear water. Flying to Puerto Princesa which is the main airport. This island is home to Port Barton, The Underground River and El Nido. There is also an airport in El Nido. From El Nido you can catch a boat to Coron. Both El Nido and Coron offer island hopping tours, clear waters and great snorkelling. El Nido has a few beaches on land where as Coron doesn't. To access the beaches you will need to take a boat trip. Coron is home to several Japanese ship wrecks from WW2, making this island very good for new or experienced divers.
TWO WEEKS
Manila – Boracay – Cebu – Oslob – Moalboal – Cebu – Puerto Princesa – El Nido – Manila
This was an intense 2 weeks with not a lot of time for resting. I got very ill after this trip as I squeezed too much into two weeks. We did manage to see all of our top bucket list items but I would recommend taking an extra week to do this trip.
Day 1 Manila – Boracay. Flight from Manila to Kalibo, then a Taxi (2 hours) to the port, then a boat (10 minutes) to Boracay.
Day 2-4 Boracay
Day 4 – Cebu – Travel day. Leave Boracay and get to Kalibo airport, to fly to Cebu.
Day 5 – Cebu. Ferry from Cebu for a day trip to Bohol
Day 6 – Cebu, Oslob and Moalboal. Taxi to Oslob to swim with the Whale Sharks, then another taxi onto MoalBoal
Day 7 – Moalboal. Sardine swim, turtle spotting & Kawasan Falls canyoning. 
Day 8 – Moalboal – Cebu – Travel Day. Taxi back to Cebu and explore the city.
Day 9 – Cebu – Manila – Puerto Princesa – Travel Day. Flight from Cebu to Manila, changing and catching a flight to Palawan. Staying over a night in Puerto Princesa.
Day 10 – Puerto Princesa – El Nido. 4 Hour drive to the Subterranean River, a few hours there and then another 3 hour drive to El Nido.
Day 11 – El Nido – Island Hopping
Day 12 – El Nido –  Las Cabanas Beach 
Day 13 – El Nido – Nacpan Beach 
Day 14 – El Nido – Manila -Travel Day – Manilla. 6 hour drive to Puerto Princesa, flight to Manila.
 SIX WEEKS
Manila – Cebu – Oslob – Moalboal – Siquijor – Kanbankalan – Bohol – Cebu – Puerto Princesa – Port Barton – El Nido – Coron – Manila.
We had given our self more time to explore, be spontaneous and chill out. This route is one we would highly recommend. This route had us starting out by exploring waterfalls and doing lots of activities and ending up on beaches to relax and soak up the sun. This way round, we kept doing new activities, seeing new sights and it felt like each day was getting better. Some parts were spontaneous and unplanned which is why we stayed in some areas longer than you would need to. 
Day 1-2  – Manila
Day 3 – Manila – Cebu. Flight to Cebu and taxi to Oslob.
Day 4-6 – Oslob – Swimming with Whale Sharks, Tumalog Falls, Aguinid Falls 
Day 6 – Travel Day – Local bus to Moalboal
Day 7-9 – Moalboal – Swimming with Sardines, Turtles, Kawasan Falls, White beach.
Day 9 – Travel Day – Local bus from Moalboal to Liloan, ferry to Sibulan, tricyle to Dumaguete, ferry to Siquijor.
Day 10-13 – Siquijor – Lugnason Falls, Cambugahay Falls, Lagaan Falls, Mt Malabahoc, Cantabon Cave. 
Day 14 – Travel Day -Siquijor to Kabankalan.
Day 15-16 – Kabankalan.
Day 17 – Travel Day – Kabankalan – Dumaguette – Bohol.
Day 18-20 – Bohol, Tagbilaran. Dolphine watching, snorkelling, Viring Island and Balicasag Island. 
Day 20-21 – Bohol, Guindulman. Can- Umatad Falls & Eleuterio rice Terrace
Day 21 – Travel Day – Local bus back to Tagbilaran, 2 hour ferry to Cebu, Taxi to hostel.
Day 22 – Travel Day – 1 hour flight from Cebu to Puerto Princesa, 3 hour taxi to Port Barton.
Day 23-26 – Port Barton – Island hopping, beaches, relaxing.
Day 26 – Travel day – Port Barton- El Nido. 3 Hour taxi to El Nido.
Day 27-31 – El Nido – Island hopping, Las Casbanas beach, relaxing. 
Day 31 – El Nido – Coron – Travel Day – 5 hour ferry to Coron
Day 32-37 – Coron – Island Hopping, boat trips, relaxing.
Day 37 – Coron – Manila – Travel Day – Over night 15 hour ferry back to Manila.
Pin this for later!