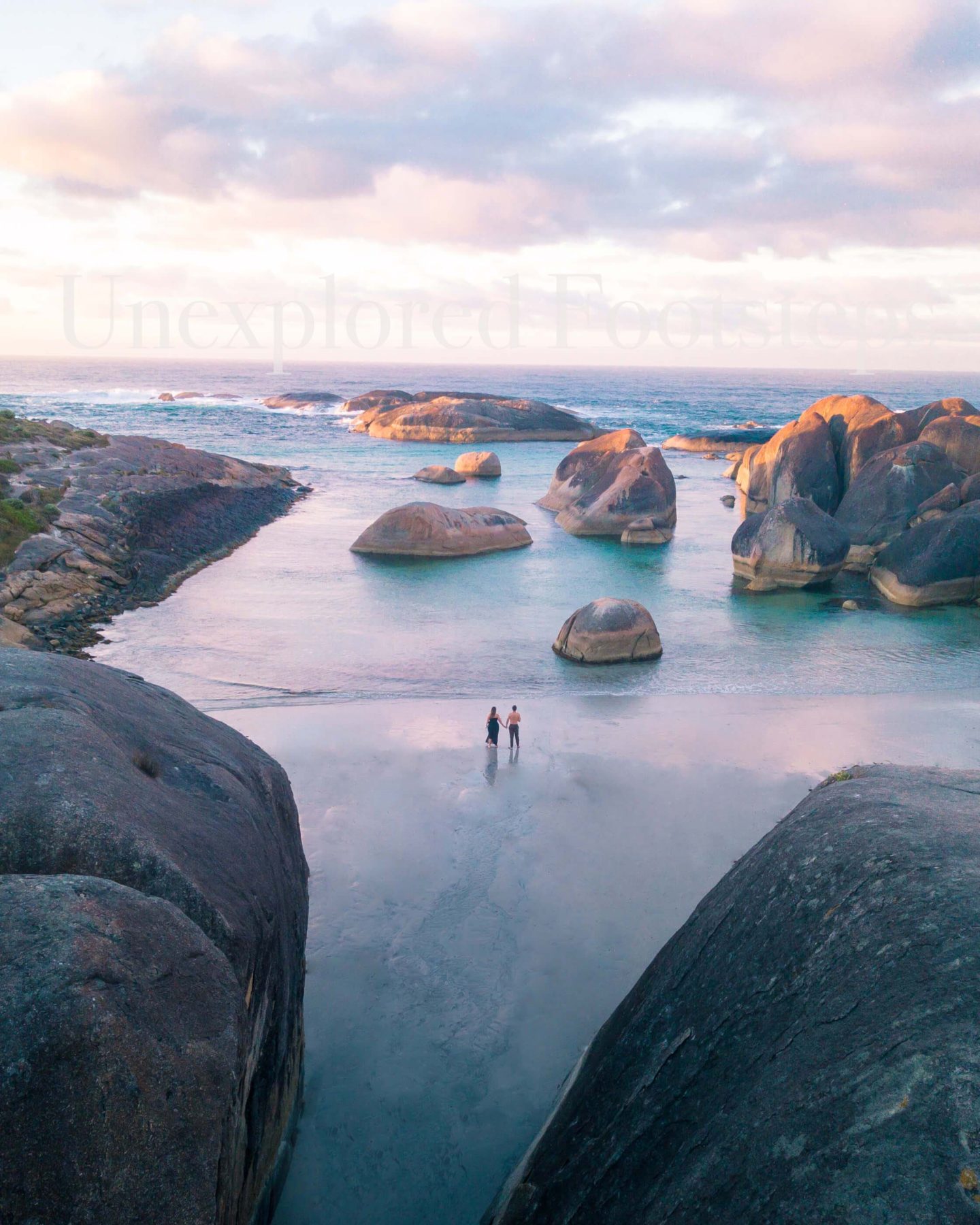 Our Perth to Esperance Road Trip has blown our minds 🤯 We knew it would be good but we never expected how good this coastline could be. It's beautiful beaches, crystal clear waters and epic national parks should rank highly on your bucket list. When we set off to do our South West Road Trip we instantly fell in love with every stop. We have highlighted what to see and where to visit along south-west Australia's coast. 
---
*This post might contain our affiliate links. This is at no extra cost to you, but you would be doing us a solid if you did use them. It shows us your appreciation after we have written this amazing travel guide for you 😏*
---
Where is South West Australia? 📍
Starting at Esperance, Australia South West meanders along a pristine coastline towards Augusta before heading North to Margret river.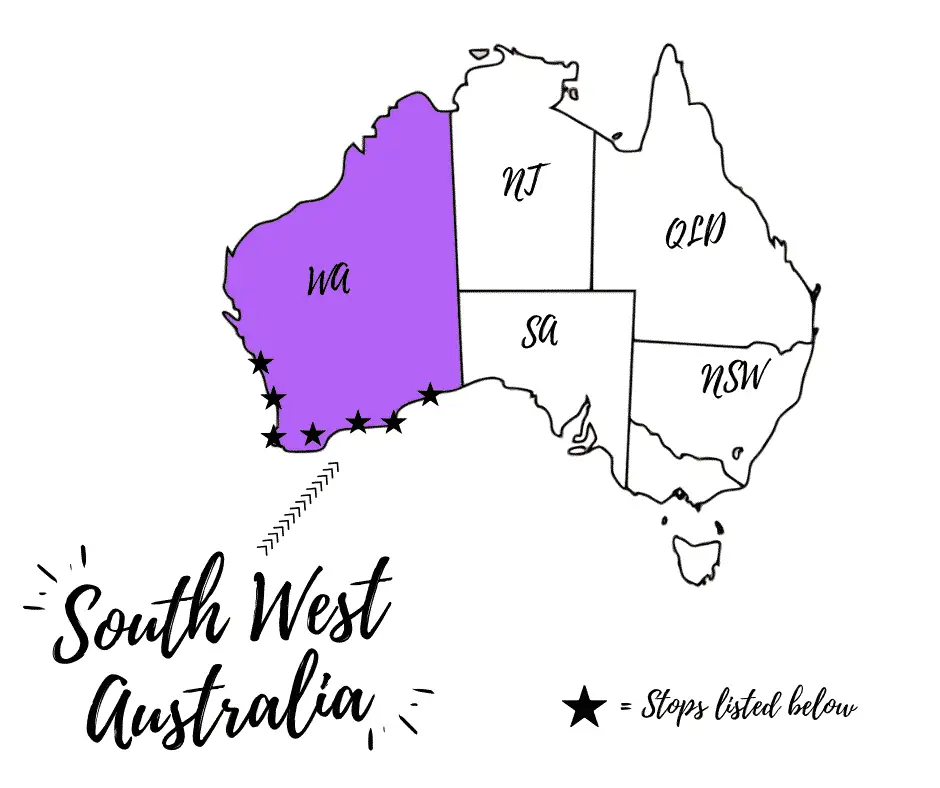 Perth to Esperance road trip itinerary
Esperance 💦
Do you remember that photo that went viral of a kangaroo laying on a beach? Welcome to Cape Le Grand National Park – Lucky Bay my friends. The home of the friendly kangaroo's who wants your attention more than Milly does when she's hungover.
At Lucky Bay in the mornings, you can grab a coffee from a small food truck called Lucky Bean! This lovely lady waited 15 minutes to turn the card machine back on for us as we got here as they closed, just to get a hot choccy. The White beaches and stupidly clear water makes great viewing for dolphins riding the waves into the bays.
List of other beaches you need to visit in Esperance:
Lucky Bay
Hell Fire Bay
Duke of Orleans Bay
Thistle Cove
Twilight Bay
Wharton Beach
This has easily become our favourite place of all time. There is a $13 national park fee to enter this area but it's worth the money. With the rock plopped in the middle of the beach, it makes this beach a landmark with Instagram. The water is crystal clear and takes the crown for Blue Arse Water💧
The rocks surrounding the beach make this little beach a pure cove of heaven. Living out of a van puts sand high on our dislike list, but this beach YOU AINT GOTTA PROBLEM. Who knew the solution to all our problems would be quartz sand. This type of sand leaves no mess as it doesn't stick to your body or towels. The entrance fee deters many people which makes this beach pretty empty most of the time.
---
TIP – climb over the rocks on the right-hand side to discover another secret beach. 
---
Click here for more information on Two Peoples Bay HERE.
The Gap 🌉
Thinking about concurring your fear of heights? We've got the place for you. This huge platform looks out over the edge of Australia. Look right and if you have good eyesight, you can see Antarctica. 
---
TIP – Drone nerds, you're going to want to hit up this spot!! Check out more of Mitchelle Clarke's unreal images here.
---
Elephant Rocks / Green pools 🐘
Walk among the giants and see if you can see why this area is called Elephant rocks. We got here for sunrise and we were not disappointed!! The beautiful tones of the rocks and water that early made the 4 am alarm worth it. When you arrive you will be faced with two paths, one left which leads to elephant rocks and one right, which leads to Green Pools. When we walked from left to right and watched a swimmer get his morning workout in, just as the sun rose. It's an amazing place for a dip! Be aware there are stairs down to elephant rocks, so travel light! Check out our prints for sale here.
National parks and forests
🌲
In the town of Pemberton you will find Gloucester Tree. This big arse tree is 61m high and they let you climb it, with no safety equipment 🙃 You can also claim Dave Evans Bicentennial Tree (75m) in Warren National Park, Diamond Tree (51m) in between Pemberton and Manjimup. These trees were originally built as fire lookouts but now are tourist death traps 😉. National Park entrance fee applies in these beautiful forests. 

Get up close and personal with the local Sting Rays of Hamelin Bay. Spend a day at this beautiful beach and try to get a Stinger Selfie🤳 With a campsite with all the amenities on the beachfront this an amazing overnight spot. Read more about this cracker here.
---
TIP – explore the rocks and passageways to the left of the beach for an epic backdrop to your photos. Check out more about Hamlin Bay here.
---

Margret river
🍷
The Wine region that feels like you're driving through the Hills of Italy. The weather in South West Australia makes this area one of the most biodiverse hotspots, which also makes for good grape growing. This bougie town should be explored for at least a few days. Taste wine, chocolate and cheese while you drive north along your road trip. We stumbled upon this maze while driving through which was pretty cool. 
Is driving getting the better of you yet? Head to the Spa! This natural wonder can give you one of the best massages of your life, for free! When the waves crash over the rocks, all you have to do is sit underneath the small waterfall and wait for it to do its magic. It involves a lot of climbing so bring good shoes. We actually couldn't find it the first time and ended up on the beach watching the surfers for ages. Read more about this place here.
TIP – when you arrive by car, take the path to the left and follow it round to the right, where you will find this great little spot. 

Sugarloaf Rock/ Canal Rock
Located in the North of the Margret River region, these two are pretty cool rock formations which can be explored all day long. Check out Roley around the world's Instagram linked here. 
Busselton 💧
Home to the second-longest wooden jetty in the world, Busselton should be next on your list. This last stop along out South West Australia Road trip made for a perfect ending. The jetty sits at 1841m long which makes it the longest wooden jetty on the Southern Hemisphere. You can catch either walk or catch a train to the end of the Jetty. Right at the very end are several attractions, including images of whales painted on the jetty ( easily spotted with a drone )and an underwater aquarium. To the left of the Jetty is a swimming area which is enclosed by a rectangular walkway.
TIP – use the app Wikicamps to find the free hot showers in this town. A road trippers dream!!
Pin Our Perth to Esperance Road Trip For Later!