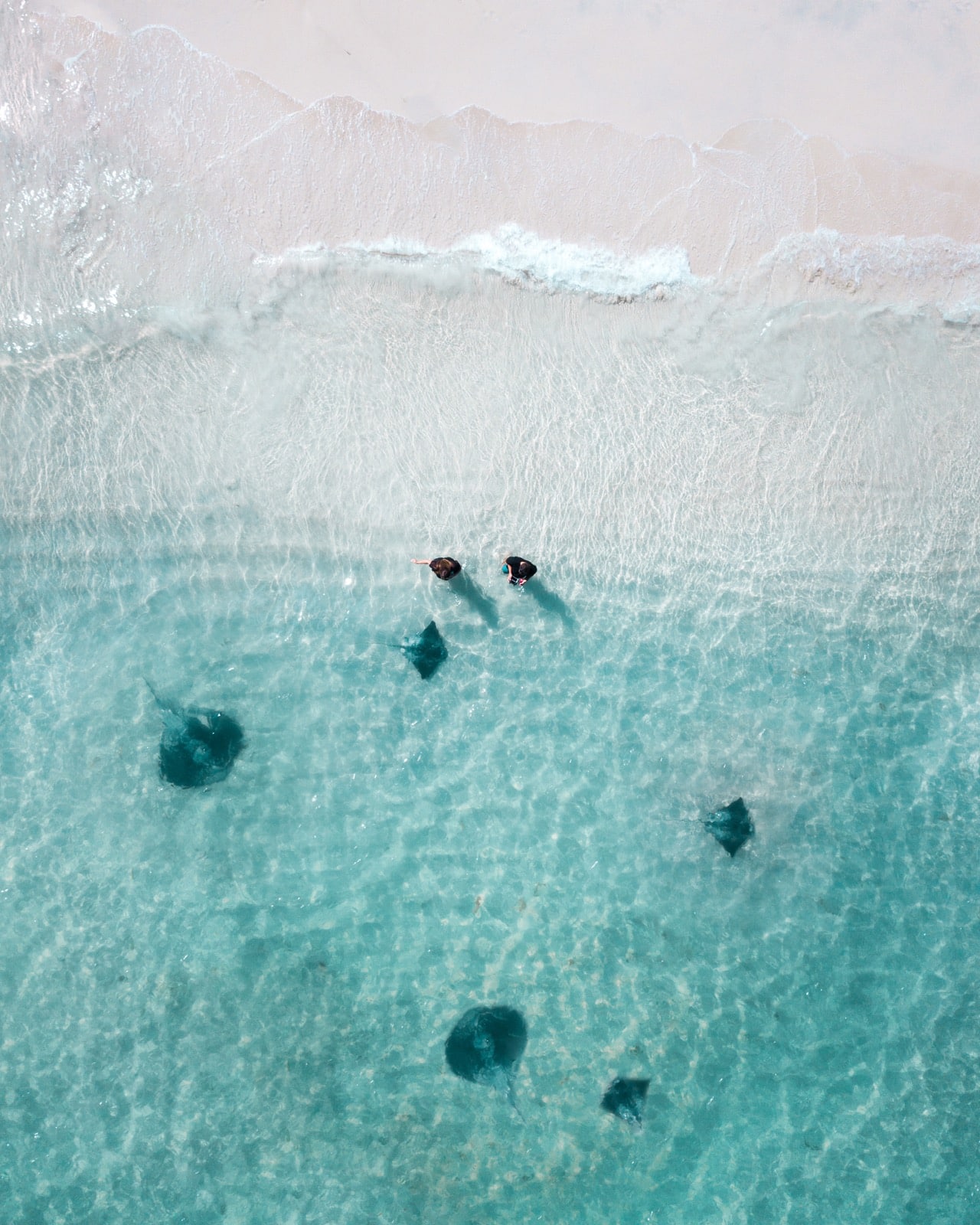 Tucked away in the South West of Western Australia is the Hamelin Bay Stingrays. After living in Western Australia for 6 months and taking many road trips along the South West Coastline, Hamelin Bay has become one of our favourite places to visit.
We have put together this little guide about Hamelin Bay and the stingrays that call this white sandy beach their home.
---
*This post might contain our affiliate links. This is at no extra cost to you, but you would be doing us a solid if you did use them. It shows us your appreciation after we have written this amazing travel guide for you 😏*
---
Jump To
About Hamelin Bay Western Australia
Entry Fee: Hamelin Bay is FREE.
Hamelin Bay Beach is a lovely beach along Australia's South West Coast. This beach is famously home to the wild, yet tame Sting Rays who crave attention. With crystal clear water and intriguing coastal walks, this beach has something for everyone.
There is a boat ramp at this location for the fishermen too. Over the years the fishermen have fed the Stingrays once they have come back from a day of fishing. The rays are so famous here that they are protected and it is now illegal to harm them. You are able to purchase fish in town and hand-feed the rays.
This beach does have several toilets and showers near the car park, as well as an Ice cream van near the entrance.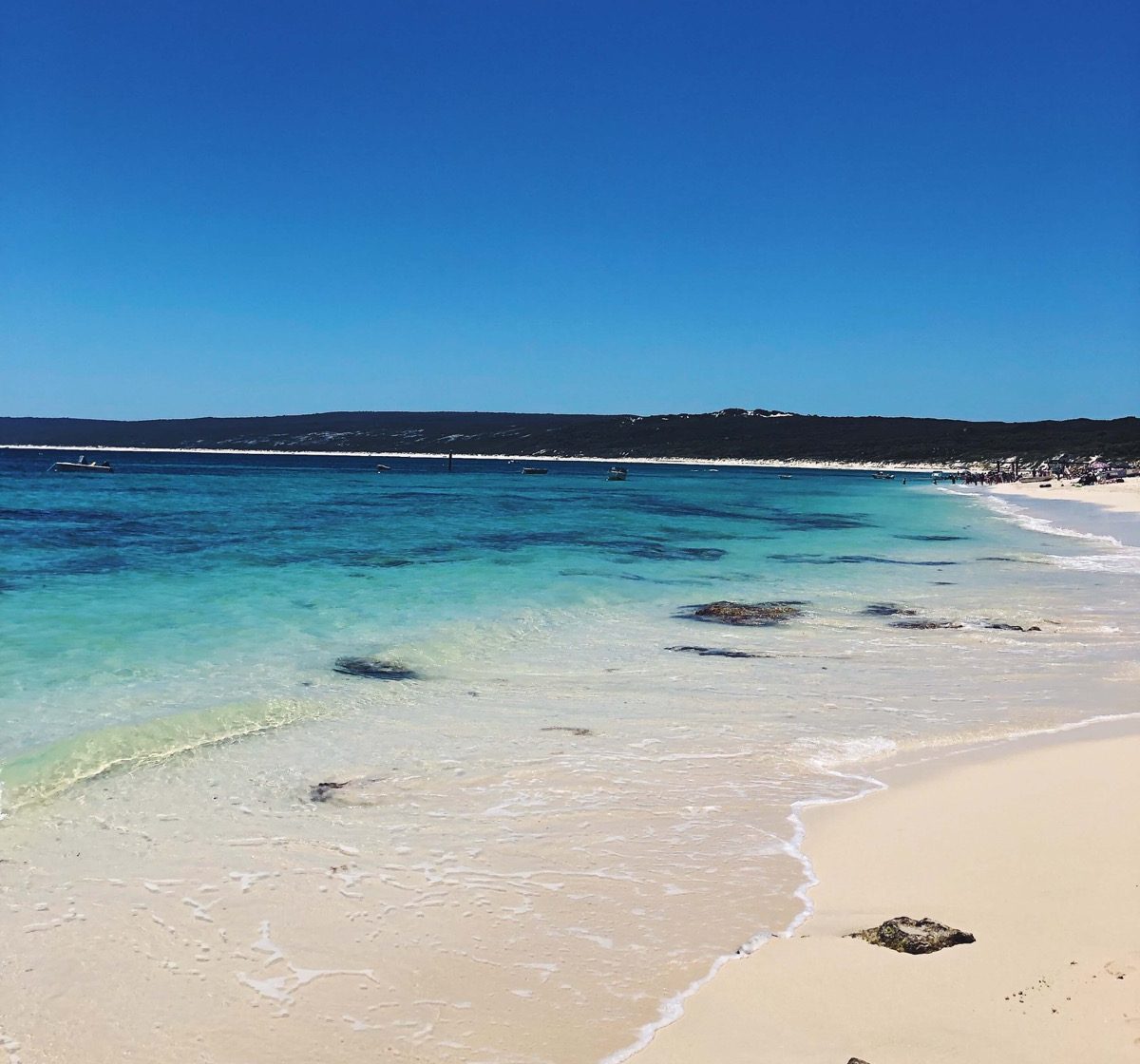 Where is Hamelin Bay Beach 📍 
Located in the Margret River region of Western Australia, Hamlin Bay is situated between Cape Leeuwin and Cape Naturaliste. The beach itself is secluded with not much on either side. There is one access road down to the beach. Along this road, you will pass by Hamline Bay Holiday Park.
Our South West Road Trip took us 3 days, starting in Perth and finishing in Augusta.
Drive time from Perth to Hamelin Bay: 4 hours.
Hamline Bay Address: Hamelin Bay Road, Hamelin Bay, Western Australia, 6288 📍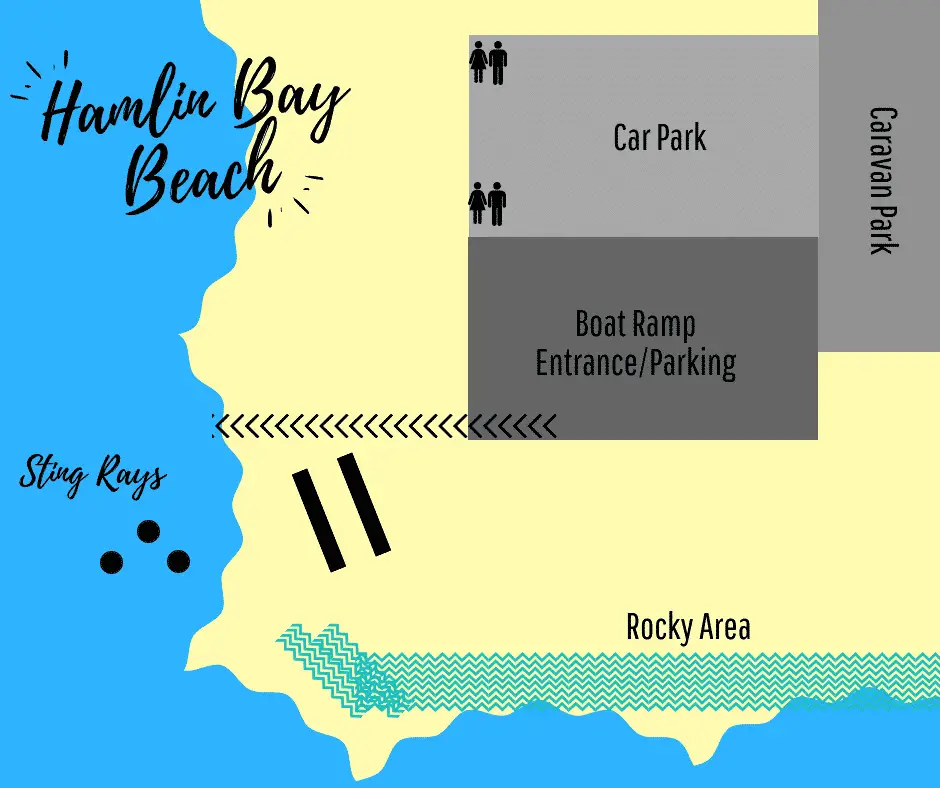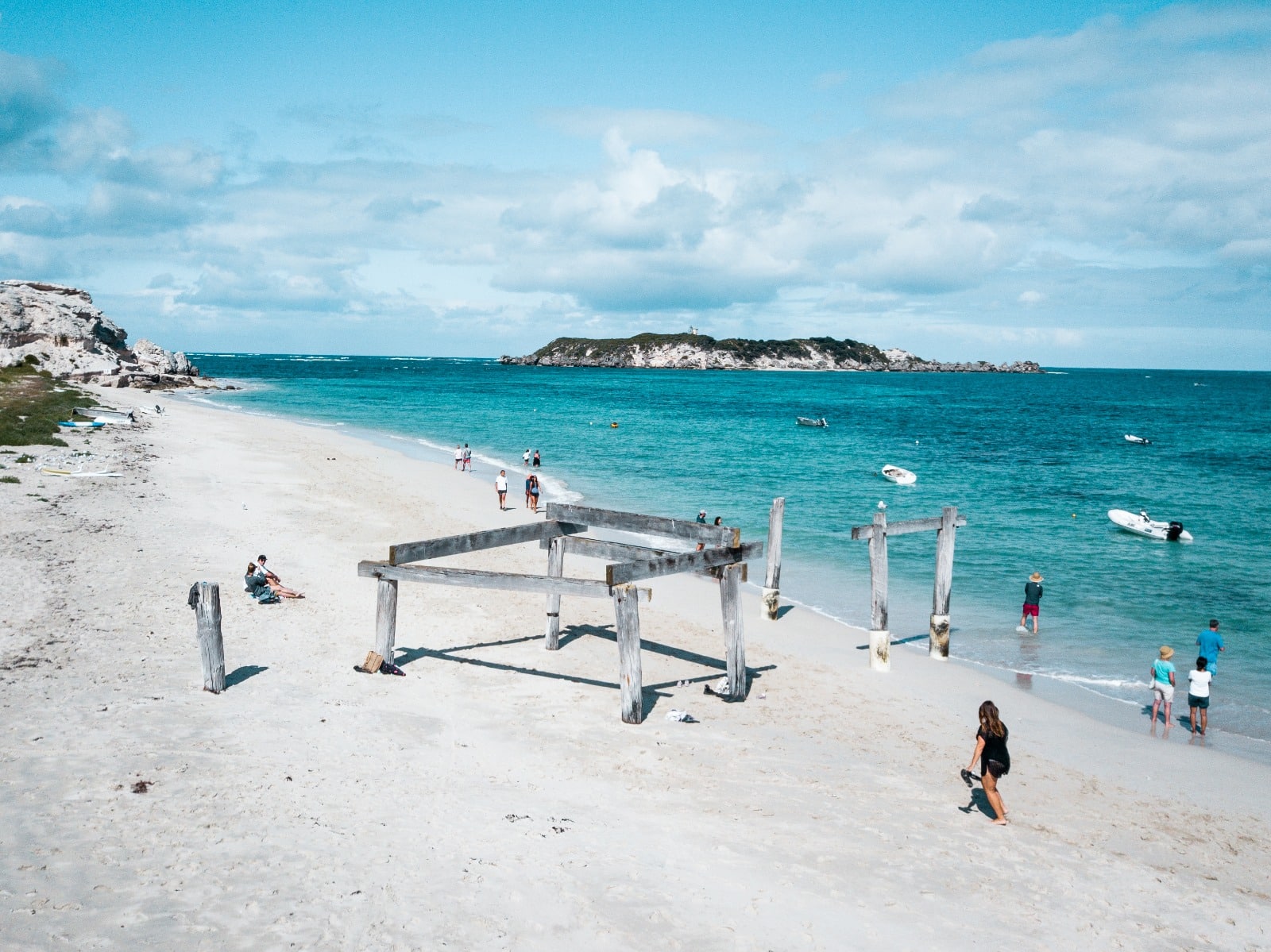 The best time to visit Hamelin Bay ⌛ 
Nature is always unpredictable and the stingrays at Hamelin Bay are no different. We have visited the beach on a number of occasions each with surprisingly different results.
The first time we visited it was during the school holidays and in the afternoon, this was a bad time to visit. The car park was extremely crowded and we ended up sitting in standstill traffic around the car park for half an hour. There was only 1 stingray around and this meant everyone was trying to get in on the action which wasn't enjoyable.
The second and third visits were much better, both times we arrived early morning to grab a spot in the Hamelin Bay car park. We enjoyed breakfast on the beach and had a relaxing time swimming with the stingrays. So our tips for visiting Hamelin Bay are.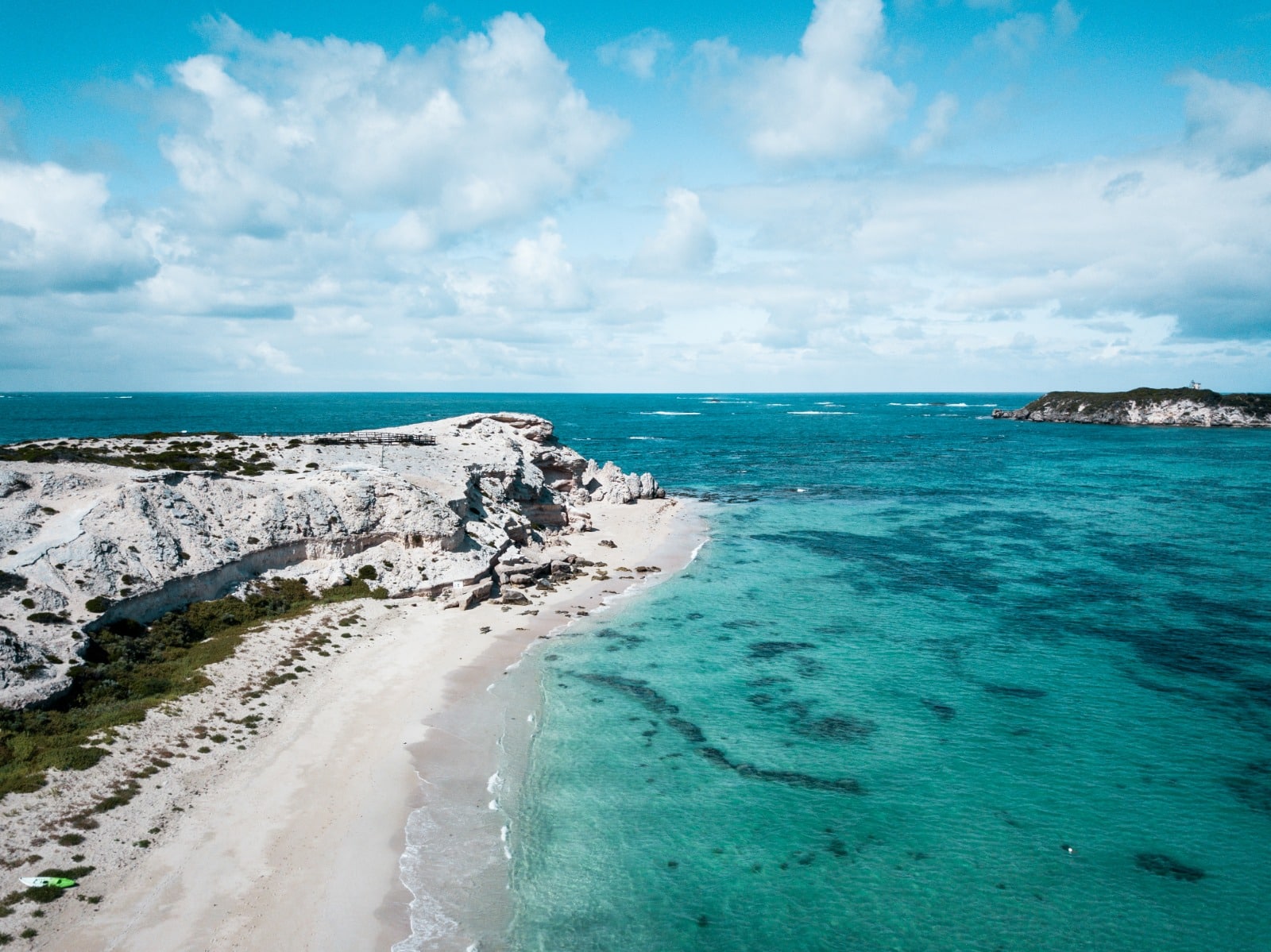 TIP:
Try to arrive between 8 and 9 am, this ensures your beat the holidaymakers staying in the caravan parks to the beach.
Avoid School Holidays –  Summer School Holidays are between Mid December to late January, which is when this beach is at its busiest.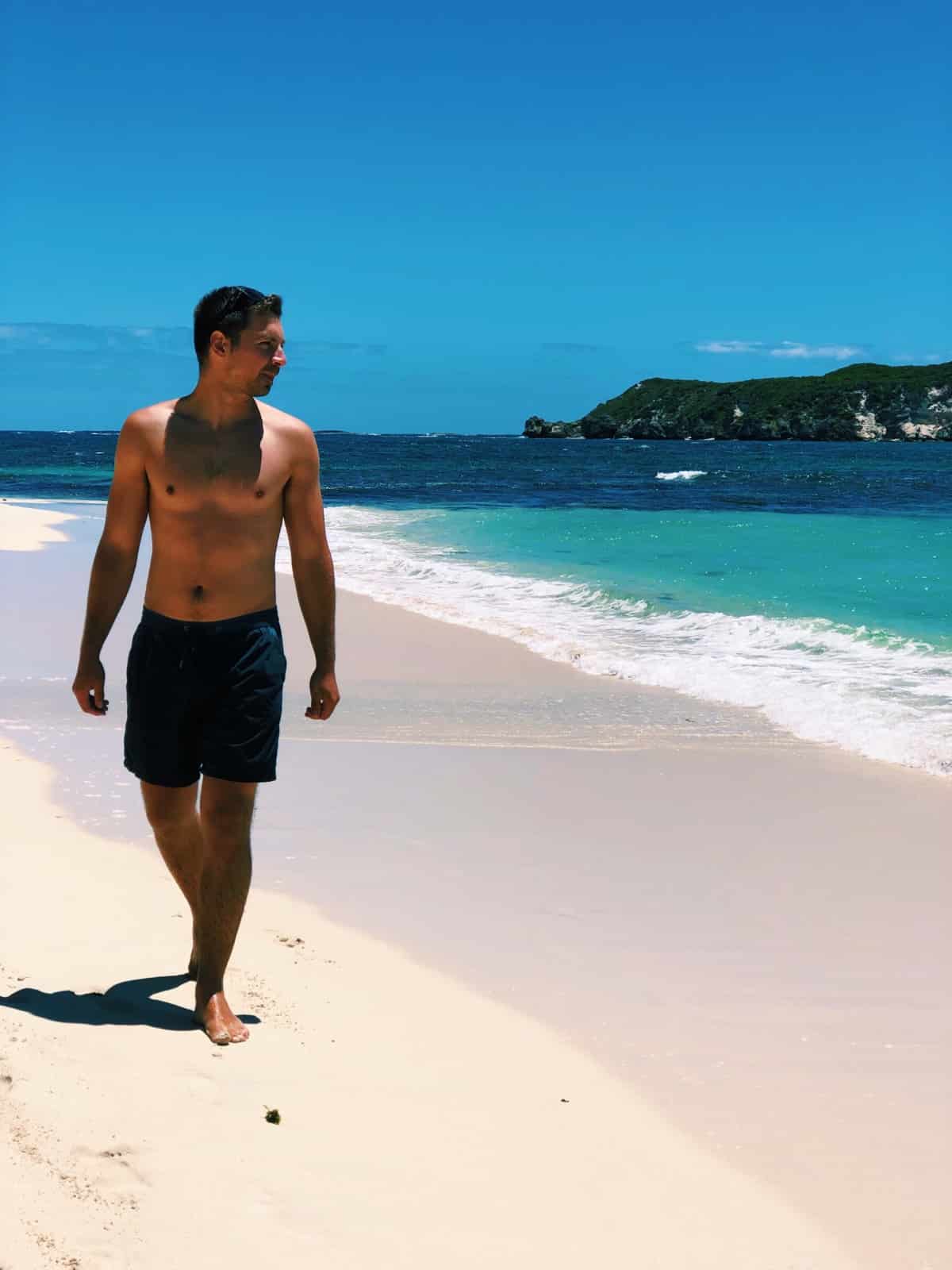 About the Hamelin Bay Stingrays 🎣
For several years the Stingrays have been visiting the Boat Ramp here hoping to get a nibble of fish scraps from the fishermen. As a result, locals and tourists took note and started to hand-feed them. There are two types of rays living here, the Eagle Ray and a Smooth Ray.
Although they have a dangerous sting, these stingrays are not aggressive towards humans. They love and seem to seek attention, much like a lot of us humans! If you waggle your hand or feet near them, that will indicate you have food for them or you want to pat them.
They will swim right up to you and in my case, slim all over your feet. They are huge beautiful creatures that are wild, yet tame. Please remember these are wild animals and can be unpredictable.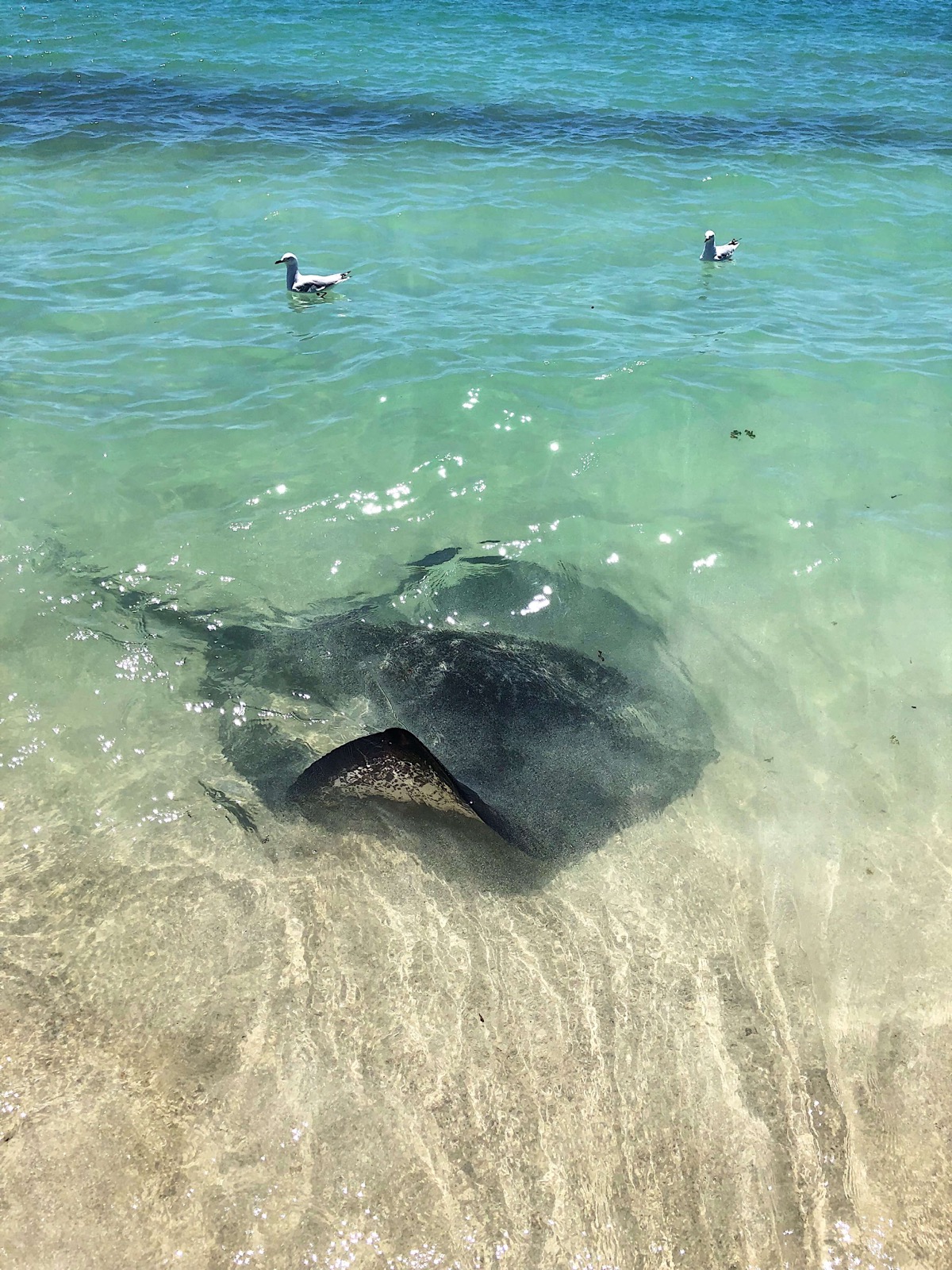 Best time to see Stingrays in Hamelin Bay ⌛
Unfortunately, there isn't a definitive answer to this question. As stingrays are wild animals they come and go as they please. However, we have a few tips for you to increase your chances of seeing these amazing creatures.
Keep an eye out for fishermen coming and going from the Hamelin Bay boat ramp. The stingrays know that if there are fishermen around there will be scraps of food in the water, ready for them to suck up.
Most of the stingrays play around in the water to the left of the boat ramp
The smooth rays can grow up to 2 meters which makes them along easier to spot from the shore. If you enter the water and paddle out to where the waves break (this is normally a few meters from the shore) you are more likely to spot the smaller eagle rays.
Make sure you pack your snorkel and fins, there are plenty of other animals to spot along the beach. It also means you can get up close and personal to the rays.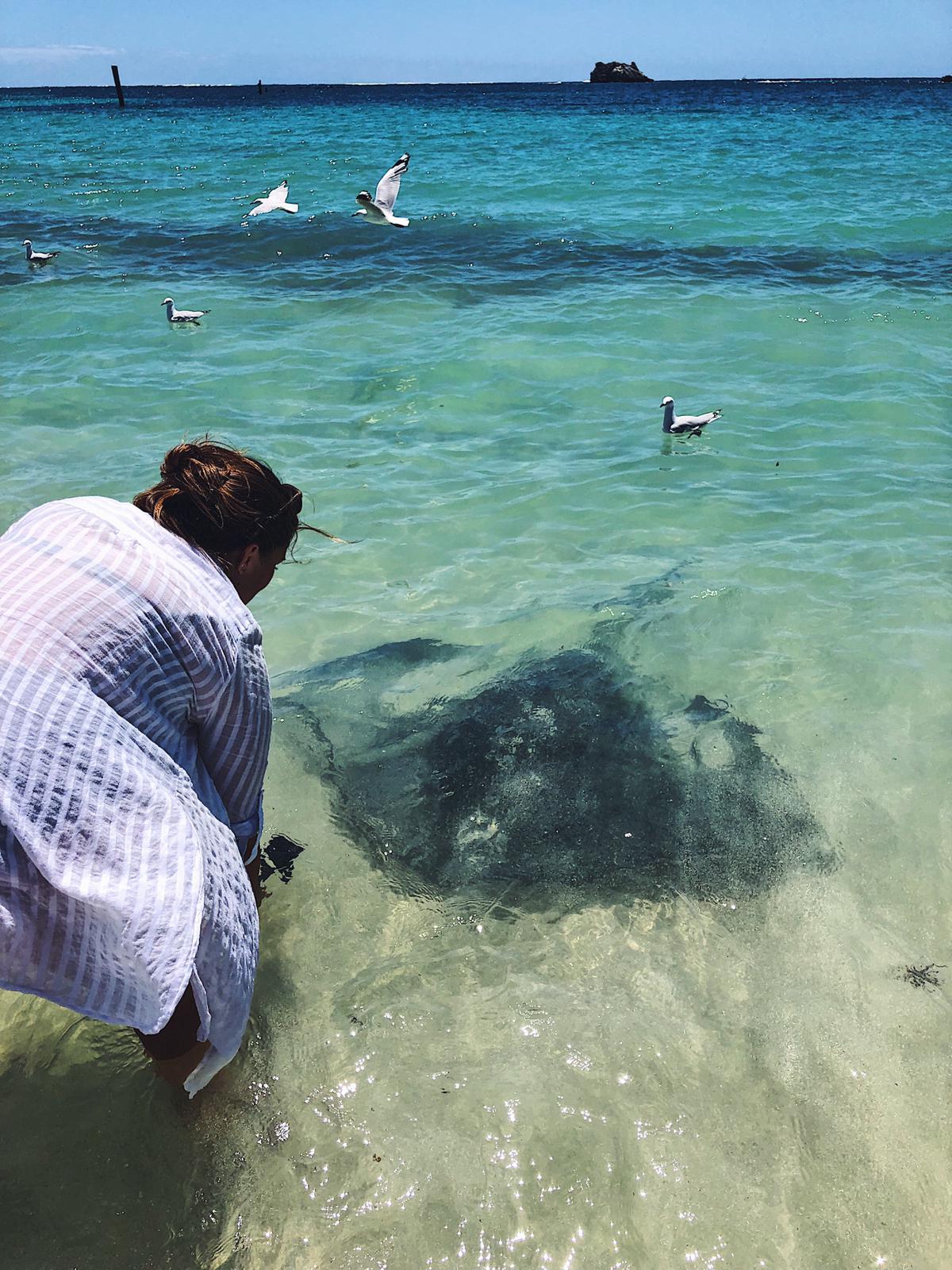 Hamelin Bay Accommodation 🏠
If you looking to stay somewhere with an ocean view then you're in luck. Next to the beach, you will find Hamelin Bay, Holiday Park. This accommodation caters for everyone. With powered and unpowered camping sites, along with chalets along the beachfront overlooking the Indian Ocean.
Although there are no hotels in Hamelin Bay, there are a number of amazing places to stay nearby in the Margaret River region.
Whilst we were visiting the beach we opted to stay near the town of Margaret River. Here you can find an array of accommodations, from luxury retreats to budget dorm rooms, this trendy town has it all.
Did we mention it is surrounded by vineyards, chocolatiers, and breweries, what more could you ask for?
Here are a few of our favourite accommodations in the Margaret River region of Western Australia.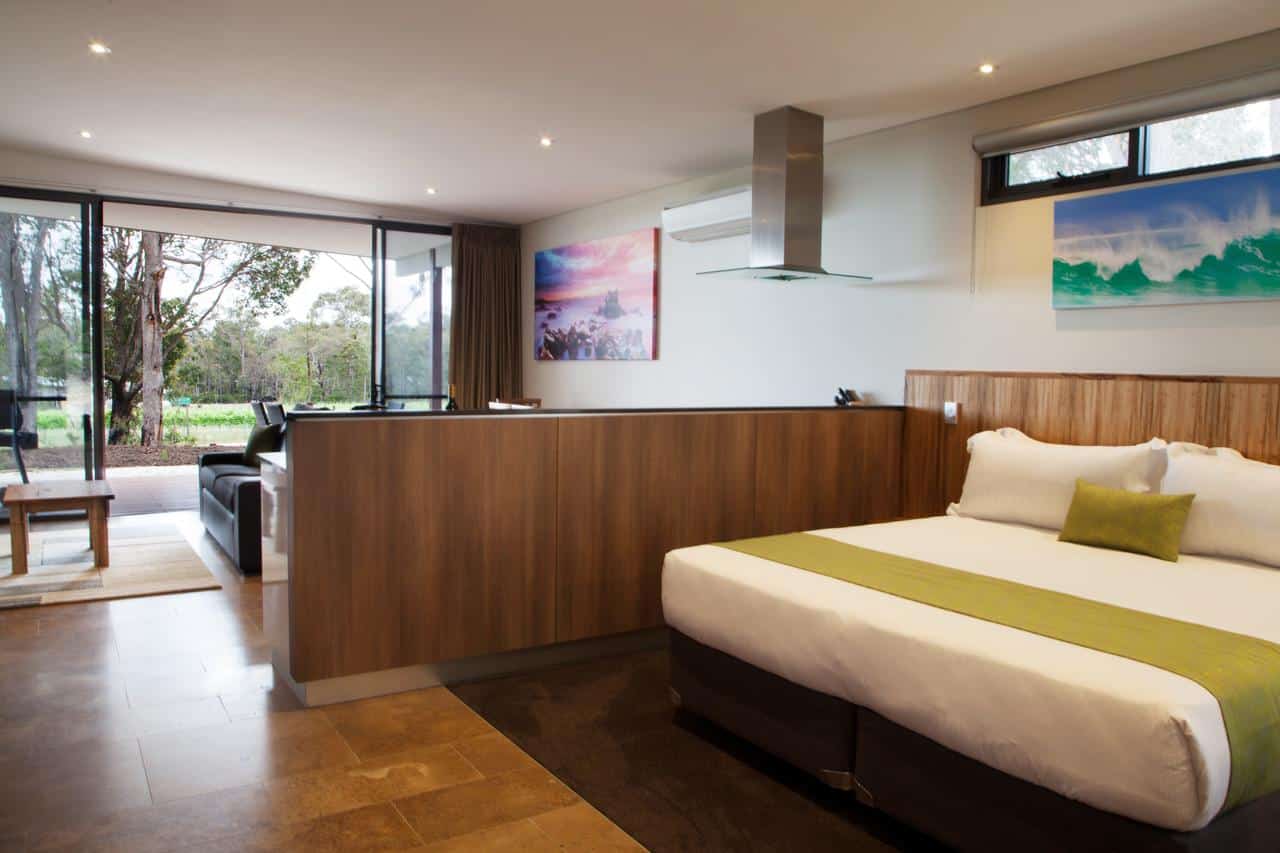 Things to do in the Margaret River Region
If you are looking for some more ideas of places to visit in Margaret River then fear not, as well have plenty of other places and activities for you to explore.
Busselton Jetty – Starting in the north of the region you have the world's second-longest wooden jetty in Busselton. You can either walk the 1.8km each way or take the train to the aquarium at the end.
Injidup Natural Spa – Over the years the rocks along the coastline have warned away and left some magical tidal pool known as the Injidup natural spa. As the waves crash over the rocks, the pools begin to bubble and fill with foam. We have written a guide about visiting these rockpools.
Visit a winery – Some of the best wineries can be found in Margaret River.
Jewel Cave – A short drive from Hamelin Bay Beach you will find Jewel Cave. This huge underground crystal-encrusted cave is one of many in Margaret River. You can take a tour of this amazing landscape.
Other caves in the area you can visit are Mamouth Cave, Lake Cave and Giants Cave.
What to bring to Hamelin Bay!🧴
Whether you are here for the day or the weekend there are a few essentials we recommend bringing along to the beach. There is a small shop and kiosk next to the car park and Hamelin Bay Caravan Park if you forget anything but be prepared to pay a premium.
We recommend wearing your typical beach attire
If walking and exploring is more of your thing then bring some other shoes rather than flip-flops as the rocks can be very sharp. Along Australia South West Coast you can find the Cape to Cape walking track. The track starts at the Cape Leeuwin Lighthouse and follows the beach north until you reach Eagle Bay.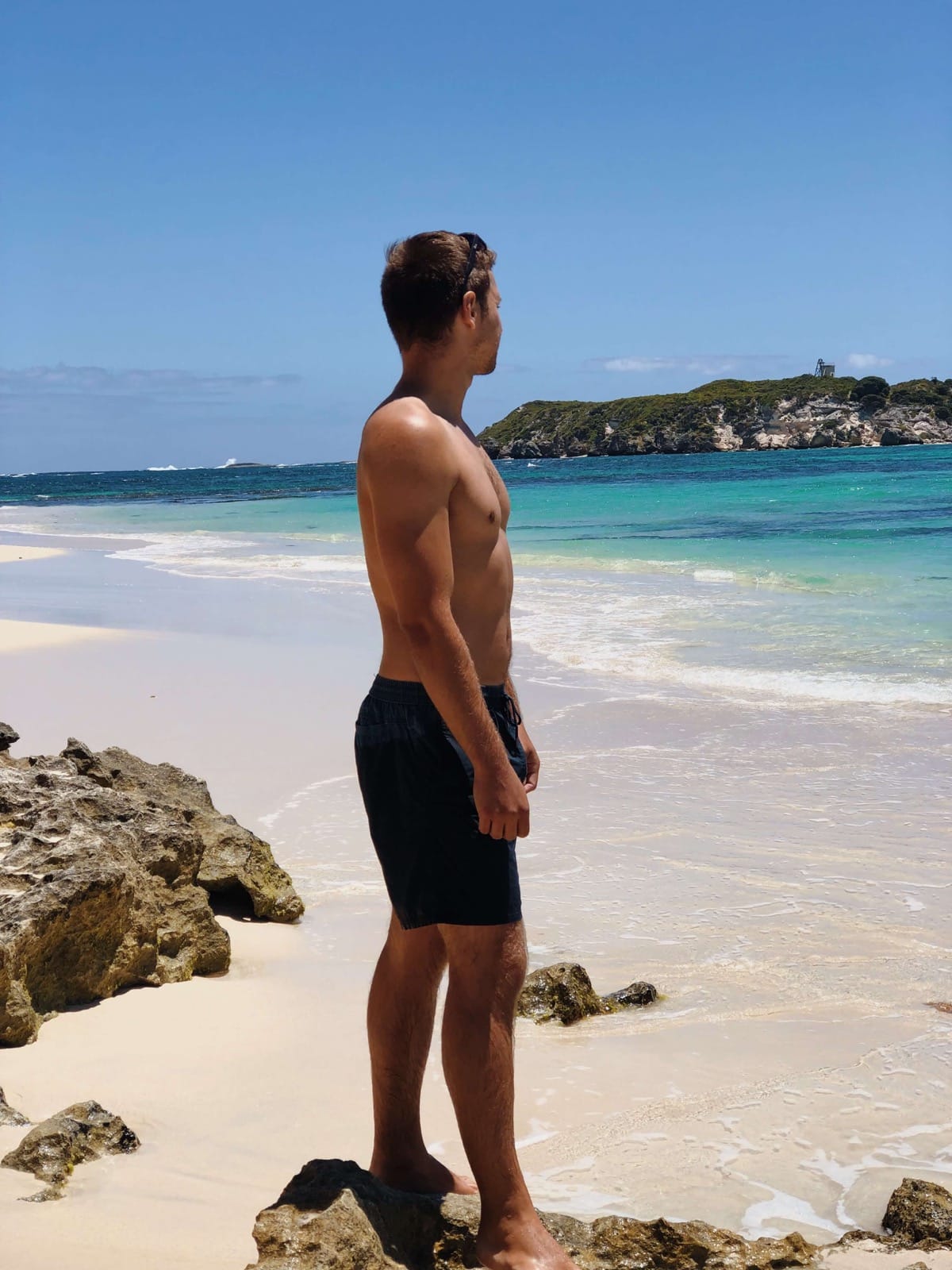 Our Honest Opinion
Firstly we will admit this beach is beautiful and we were honestly in awe of how clear the water was. However, at first, we didn't feel comfortable when we visited here due to the number of people crowded around the Stingrays.
As a result, we walked away from them to give them some space. It was confusing as we had only come to this beach to see them, but something about everyone crowding around them made us feel uneasy. No one was harming the rays and equally, not a lot of people were actually in the sea with them.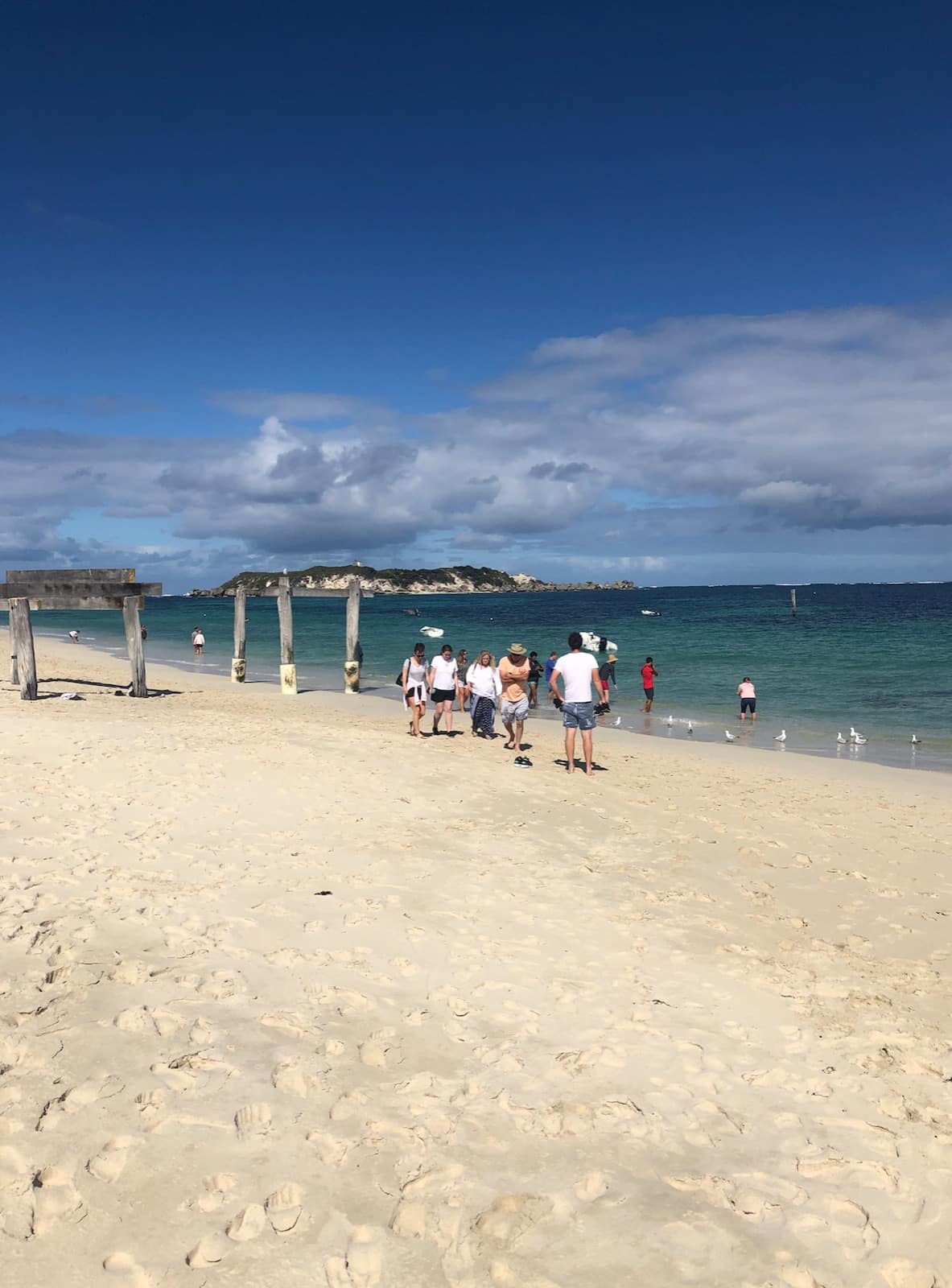 We completely understand that the rays are here because they are fed, I am just worried that this will turn into a 'Whale Shark in Oslob' situation. Don't get us wrong, if we were fed and stroked all day long then I wouldn't move much either. We are just concerned something could go wrong here very quickly.
Saying that the second time we visited here (much earlier in the day) we had a great time seeing the Sting Rays with no one around. We didn't feed them, only admired them.
What Camera Gear Do We Use
Other Travel Guides
Pin our Hamelin Bay Stingrays Guide for later!