When it comes to thinking of new and fun ideas for date night, we sometimes draw a blank. Even for nights out with our friends, we don't always want to go to the same old pub. Enter ROLLER DISCO LONDON! When we lived in Perth we found a new love for roller skating so when we found out about this activity, we jumped at the chance. Mix in a bar and great food and you're on to a great night out.
---
*This post might contain our affiliate links. This is at no extra cost to you, but you would be doing us a solid if you did use them. It shows us your appreciation after we have written this amazing travel guide for you 😏*
---
Jump to 
About Roller Nation – The Ultimate Roller Skating Disco London❔
Roller Nation is a Roller Disco in central London. Imagine clubbing, but on skates, that's what Roller Nation is 🕺. Based in Tottenham, North London, this roller skating party is not only close to public transport, but Roller Nation is London's only purpose-built nightclub on wheels. From nights out, birthday parties and lessons this venue can have got something for everyone.
Each weekend, Roller Nation hosts a Disco with all the food and drink you could give you the energy to skate the night away. The night out we spent here, was honestly the best night out we have had in a long time!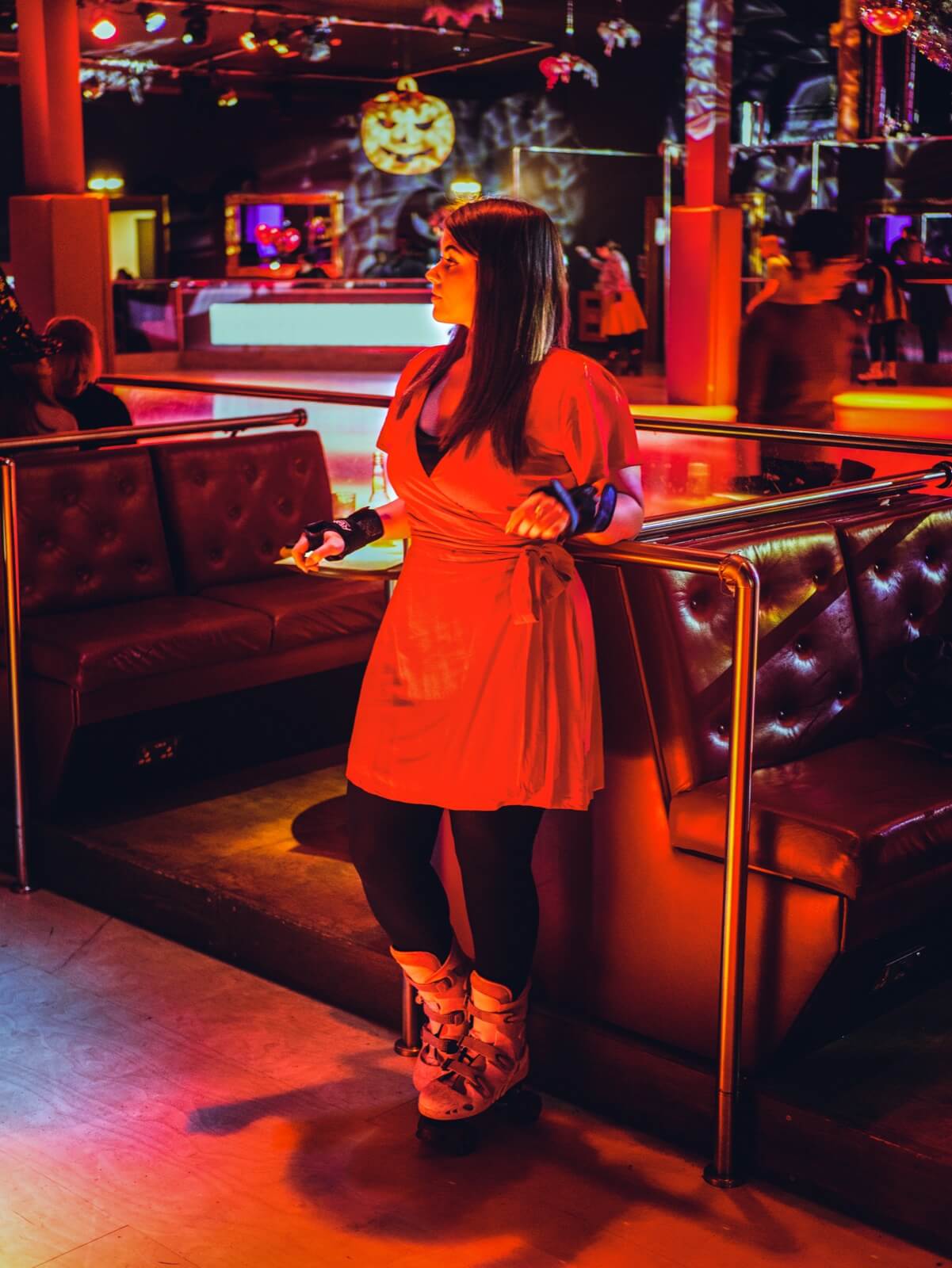 Roller Skating London – How Much Is It To Get In? 💸
Nights out in London can be expensive. But roller skating in London we think is reasonably priced.
Ticket prices at Roller Nation are subject to change, depending on special events. We would recommend booking online beforehand, to avoid queues and disappointment.
General admission ticket prices are below.
Thursday – £10
Friday – £12.50
Saturday Night – £15
Sunday – £15
🔞 Please be aware this is an over-18 event, so leave your babies at home 🔞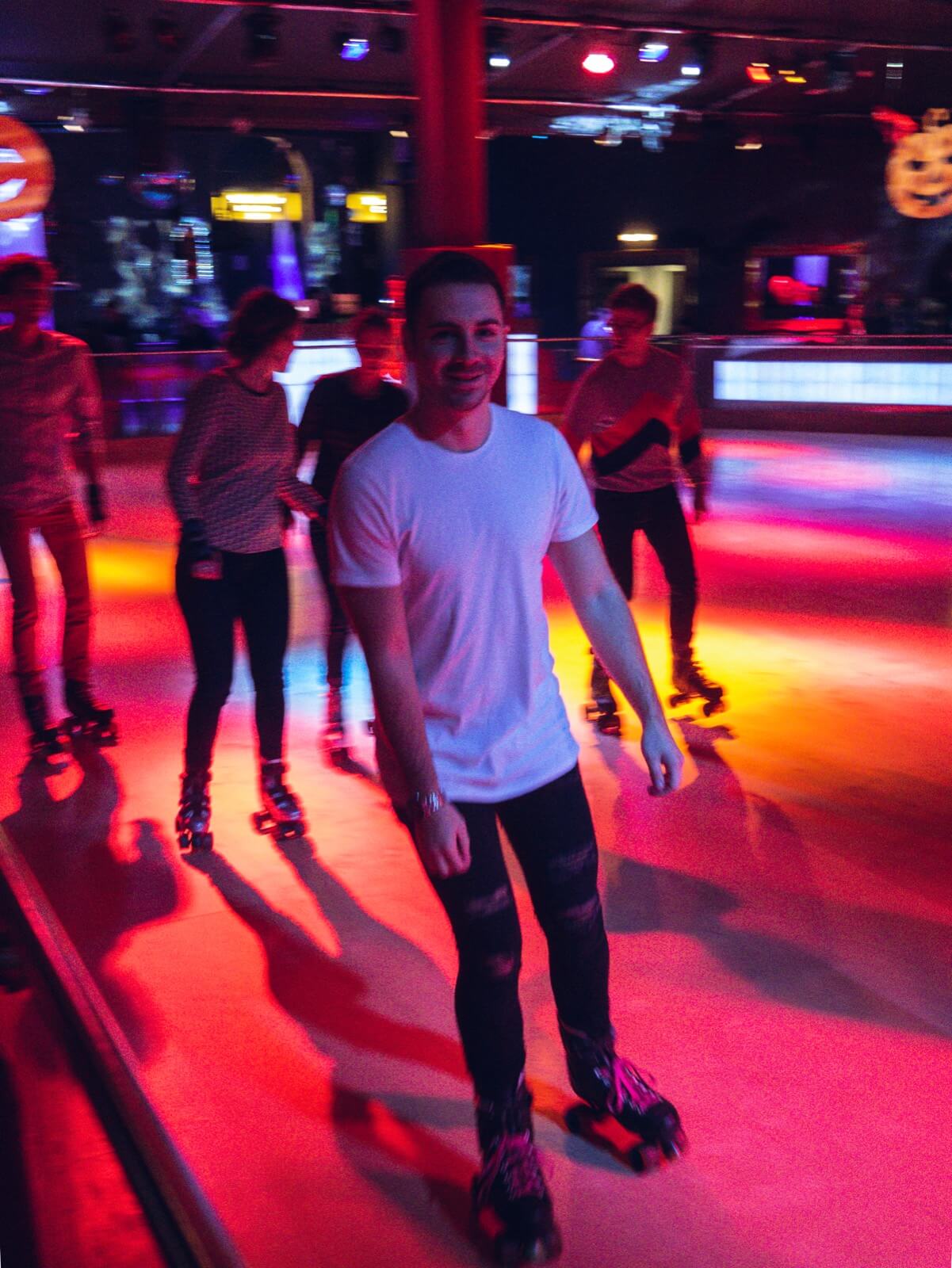 Events At Roller Nation London 🕺
Like any club, Roller nation hosts several different events. With a DJ every weekend, Roller DISCO stays open till 2 am! Would you last all night on 4 wheels?
Thursday 8 pm – 2 am, Soul Skate
Friday 8 pm – 2 am, Roller Boogie
Saturday 8 pm – 2 am, Roller Disco
When we went to roller nation, all the big booths were reserved for parties. The next time we go back with a bigger group, we will be hiring a booth which you can do through their contact page here.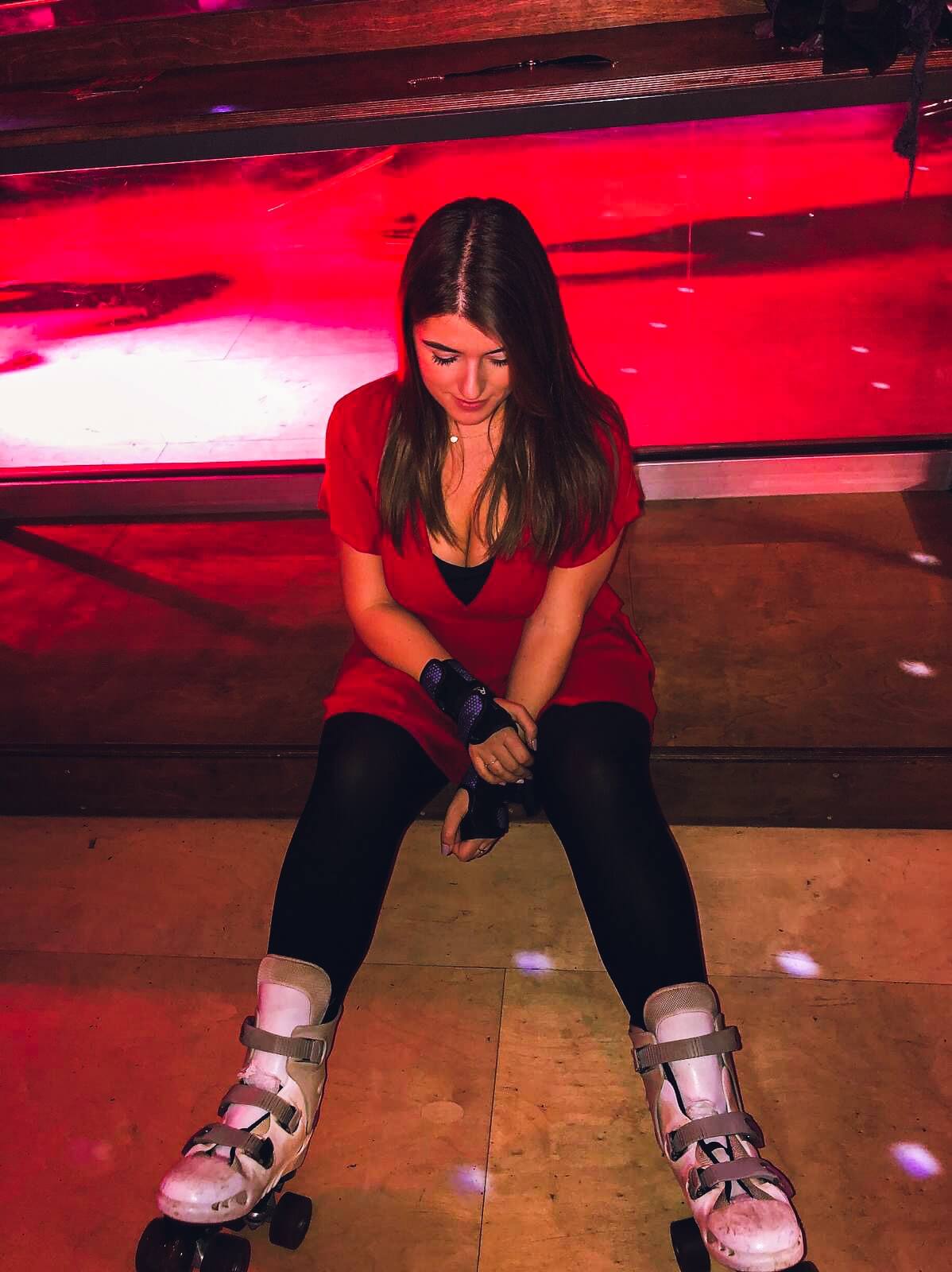 Roller Nation Food And Drink 🍕
We have had our fair share of swim-up bars while travelling, but this was the first skate-up bar we've encountered. There is nothing like a fully stocked bar to get your confidence up to jump on the dance floor.  Equipped with biodegradable straws, mix your rollerblading with some rum 🍹.
What is a night out without some great food at the end of the night? Look no further as Roller Nation has its diner. After one too many drinks, we took a time out to rest our feet and pig out on Mac and Cheese balls 🤤.

Skate Hire At Roller Disco London ⛸️
(if someone could make a roller blade emoji, that would be great)
When you arrive at Roller Nation you will walk through the entrance and see the skate hire to the left. This is where you swap your current shoes, for roller blades.
You are welcome to bring your skates but you will have to put your belongings in the cloakroom as there isn't anywhere to leave your bags. The cloakroom only accepts cash so make sure you have some coins on you.

Roller Nation London Address 📍
The address for Roller Disco London is
↠ 117 Bruce Grove, Tottenham, London N17 6UR.
The closest train station is overground at Bruce Grove. From the station, it is a short 5-minute walk to the Roller Nation venue. Alternatively, you can catch the London Underground. The closest tube station is Seven Sisters which is on the Victoria Line. The walk from Seven Sisters station to Roller Disco London will take you 25 minutes.
There is an overground train that runs between Seven Sisters and Bruce Grove. Or you can catch a bus for £1.50 each way.

Our Review – Roller Disco London 🥳
Since we have come back to London after travelling for a few years, we try and make date night a weekly, if not a monthly thing. By doing this so regularly we quickly ran out of ideas. When we came across Bookado we were so excited to start making date nights new and exciting. Roller skating is something we have done once before, but never on a night out while sipping back cocktails.
From the moment we walked into Roller Nation, the DJ had some great songs on which started the night perfectly. We got our boots on and headed for the dance floor. After one shaky round, holding onto the side, we decided to head to the bar.
The perfect thing about this night was the fact we didn't need to take our skates off once. The bar, diner and even the toilets are all catered for roller blades. We had so much fun skating around with each other, dancing to the songs and trying to balance the drinks from the bar to the booths.
Once we were slightly tired, we headed over to the diner for some food and ordered the Mac and Cheese Balls 🤤. It was the perfect amount to share and give us enough energy to get us back up on our feet and head back to the dance floor. We happened to visit here on the weekend of Halloween which made this night even better.
The whole venue was decorated brilliantly and everyone dressed up and made an effort it was great to get involved. The staff were very helpful, giving us tips to make us better skaters and helping people who had fallen over. There is nothing worse than falling on your arse but the staff skated over so quickly it didn't matter!  

Bookado now makes it even easier to find and book activities and experiences around the United Kingdom. Unlike other activity companies, Bookado allows you to book the exact time and date of your activity directly from their website.
They are also able to offer you the cheapest price for each of the activities.
To book your Roller Skating London experience or find activities near you, search with Bookado now.
Pin Our Roller Disco London Guide For Later!
What Camera Gear Do We Use
Other Travel Guides