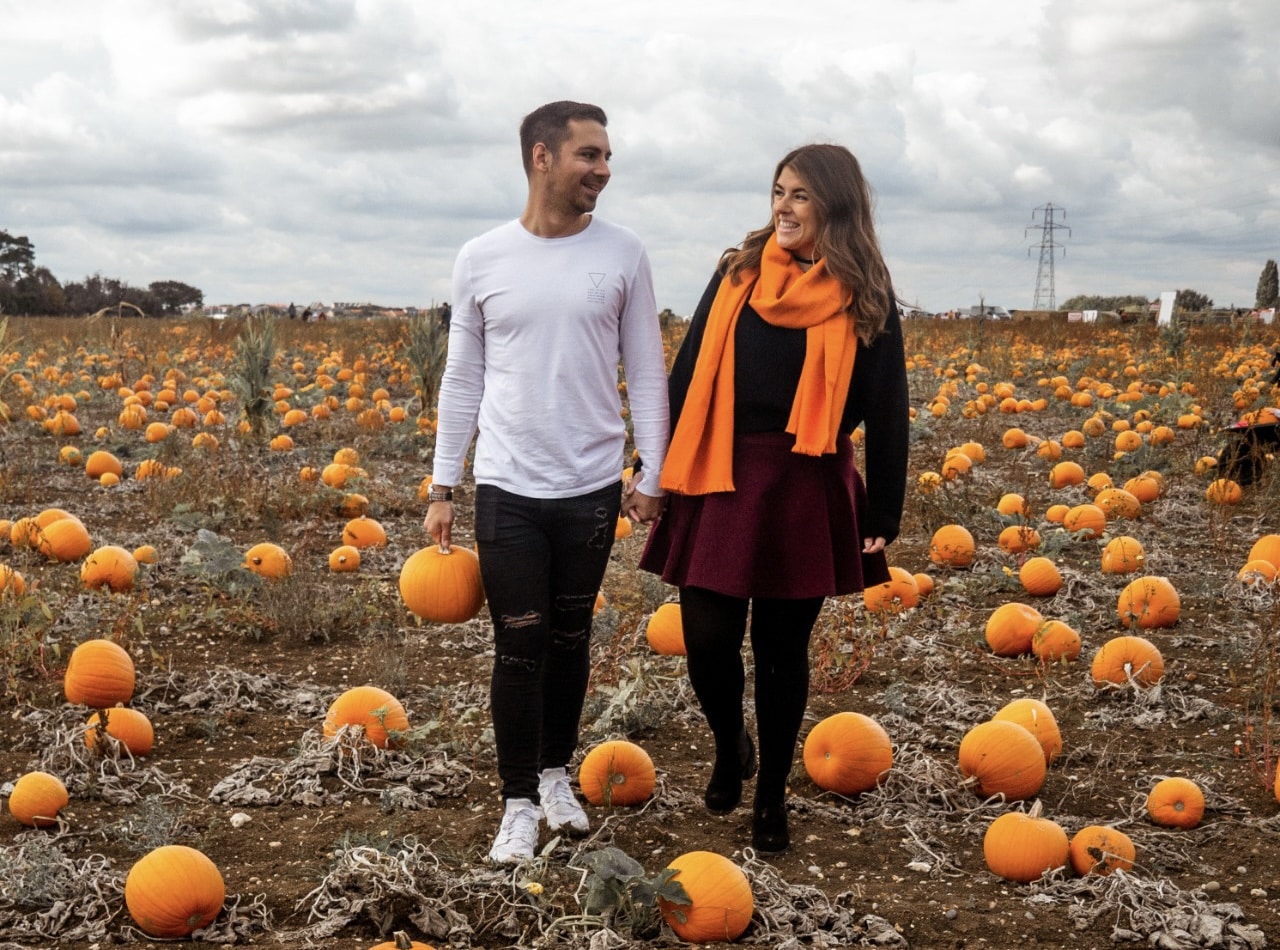 Over recent years visiting pumpkin patches near London and the celebration of Halloween in the UK has grown dramatically. Although we are not quite yet on par with our American friends, we still love to celebrate this holiday with fancy dress, sweets, and lots of pumpkins.
After googling pumpkin picking near me back, we couldn't find many blogs recommending places to visit. After a lot of research which meant visiting most of the pumpkin patches near me in London, we have put together this guide to help you find the best pumpkin patches near you.
The first pumpkin farm we visited was Foxes Farm Produce. At first, we were a little worried it was more of an activity for children, but we can assure you it is just as much fun for adults too.
Before you skip to all the locations below, you might want to read a few of our preparation points before you set off.
---
This post might contain our affiliate links. This is at no extra cost to you, but you would be doing us a solid if you did use them. It shows us your appreciation after we have written this amazing guide for you 😏*
---
Jump to
Give your photos the Autumnal orange feel with our Autumn Preset.
Download Now
>>>> !! FREE AUTUMN PRESET !! <<<<
What to expect pumpkin picking ❓
You can expect a whole lot of fun when pumpkin picking. Most farms have a few extra activities to get involved with such as a maze and adventure trail for the kids or just a nice local farm shop to buy great food in.
As the pumpkins are grown in large farmers' fields, the paths can become extremely muddy.  You should be prepared to get a little dirty when visiting the pumpkin patch.
Don't forget your camera so you can capture these special moments.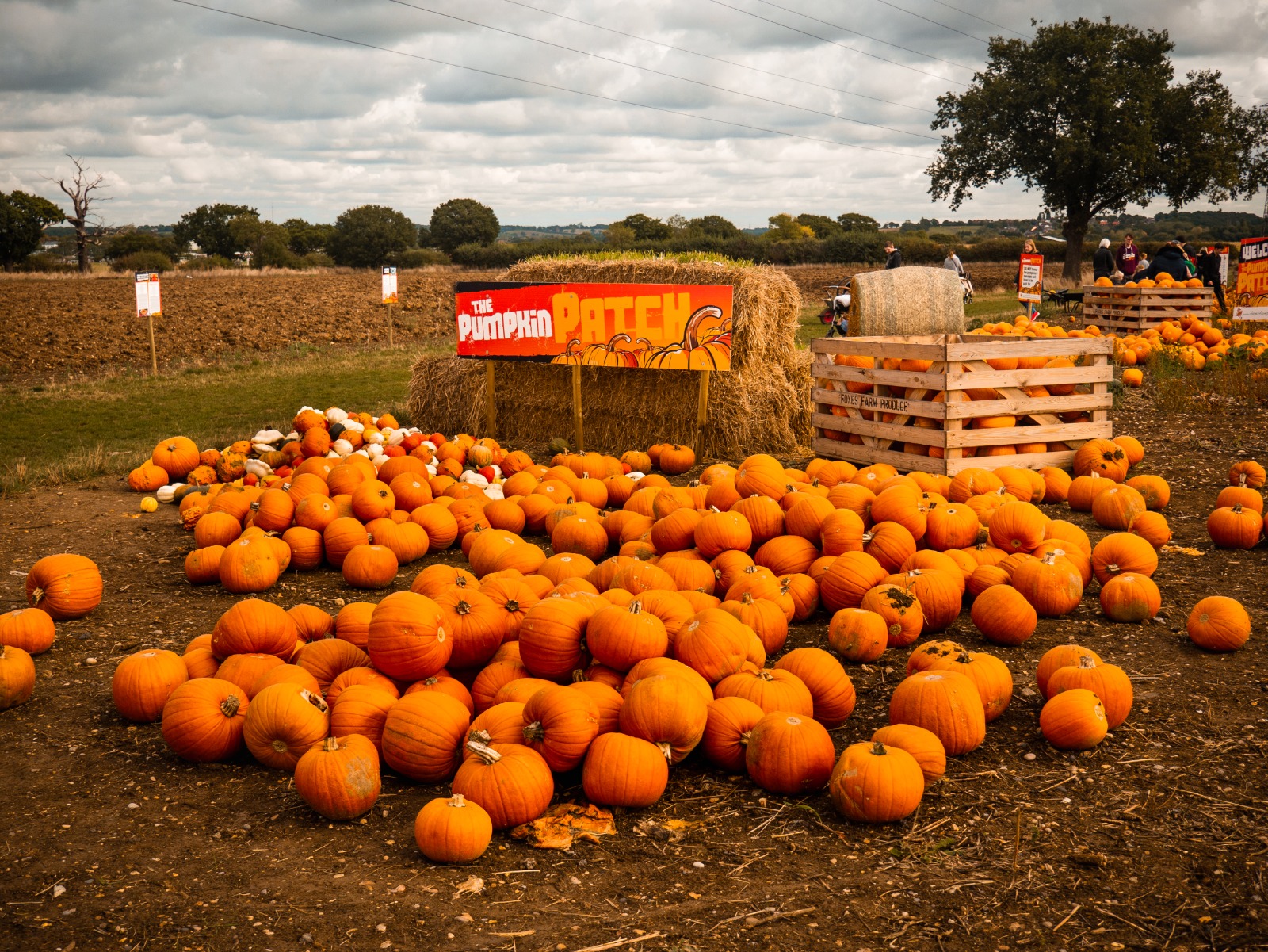 What to wear to a pumpkin patch near London 🥾
What you are going to wear pumpkin picking is not the first thought that probably crossed your mind. But it's defiantly something we recommend considering, especially if it has been raining recently.
The first time we visited we were wearing trainers and they got extremely muddy. Instead of making the same mistake, grab your wellies or boots for a better option. Make sure you wrap up warm and wear something you don't mind getting dirty.
If you are picking pumpkins for the photos or Instagram, then put on your best autumn outside and start snapping away.
When do pumpkin patches open 🕑
Nothing screams Autumn and Halloween more than Pumpkins. These orange round balls of joy start to grow in August ready to be harvested throughout October for the big day, Halloween on the 31st.
This means the pumpkin patches near London typically open on the 1st week of October.
We recommend checking the weather or the pumpkin farm website if rain is forecast. Many sites will close for the day if there has been heavy rain as it makes the fields extremely muddy.
Booking 🎟️
*Due to the Coronavirus, booking is essential at all of the sites. If you do not have a pre-booked ticket you will not be able to enter. Check the relevant pumpkin patch websites for more details on their Coronavirus restrictions.*
Other things to do around London
If you are looking for more things to do around London especially if the weather isn't great. You should check out more of our London and UK posts.
Where to stay in London
You have plenty of choices when it comes to hotels in London. From hostels and B&B's to some of the most luxurious accommodations around you can find it all in London. Search all London accommodations to find the best price.
The best pumpkin patches near London 🎃
We have put together this list of what we believe to be the best pumpkin patches near London. When it comes to pumpkin picking you have to travel a little to reach these farms which are mostly on the edge of London or in the surrounding counties.
1. Secretts
Enjoy pumpkin week at Secretts in Hurst Farm Surrey. A week-long extravaganza of picking your own pumpkins, shopping, and eating. Secretts also has an award-winning butcher, winery, and clothing shops on site along with a tea room serving freshly baked scones.
Pumpkin week starts on the 24th of October and runs until the 31st.
Secretts – Hurst Farm, Chapel Lane, Milford, Surrey GU8 5HU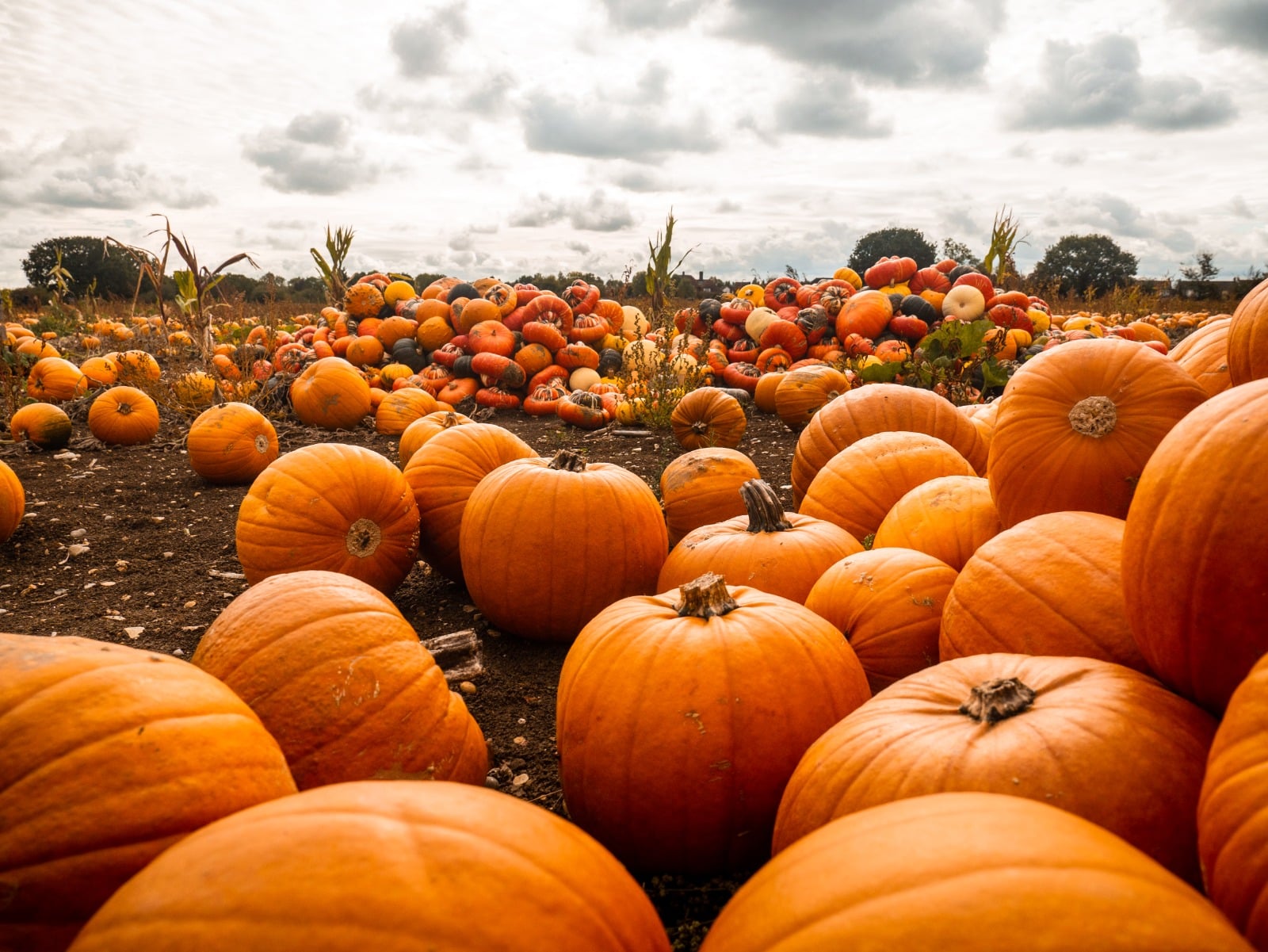 2. Priory Farm
Solve the mystery of the missing pumpkin and follow the Halloween trail around Priory Farm in Surrey. On Saturday 10th October Priory Farm opens its doors for its Halloween event.
Take a tractor ride across the fields and explore the pumpkin palace. Due to limited numbers, you will need to book these activities in advance.
🎟️ The entry fee to the Halloween trail is £5
🚜 Tractor rides are £3 plus the cost of your pumpkin
Priory Farm –  Sandy Lane, South Nutfield, Redhill, Surrey, RH1 4EJ
3. Crockfordbridge Farm
One of the biggest and most famous pumpkin patches near London is Crockfordbridge Farm. Owned by the Smith family, this farm has PYO fruit and vegetables all through the summer months. Come September Crockfordbridge turns to pumpkins and squashes and holds its annual pumpkin festival.
For the schools, half term week Saturday 17th-31st October the festival runs holding fancy dress competitions and more spooky Halloween activities. The best thing is that it is all inside. So no matter the weather you can enjoy the festivities. This event is extremely popular so make sure you book your tickets early.
🎟️Adult tickets £4 + £2.00 booking fee
🎟️Child £5.50 + £2.00 booking fee
However, if you want to pop along and pick up a pumpkin, visit the farm shop, and ice cream parlour then the entry prices as slightly cheaper.
Adults £4 🍦
Children are free 🍦
Due to COVID restrictions, PYO pumpkins are limited to the following dates
October – Sat 3rd, Sun 4th, Fri 9th, Sat 10th, Sun 11th
Once Halloween is done and dusted Crockfordbridge Farm has a brilliant Father Christmas in the Wonder Wood experience. You can find more details on their website.
Crockfordbridge Farm – New Haw Road, Addlestone, Nr. Weybridge, Surrey KT15 2BU
4. Foxes Farm Produce
The Foxes Farm Produce has two pumpkin patch sites, we visited the one in Colchester just outside London. At Foxe's farm, you will find fields upon fields of pumpkins ready to pick. They have also made it easier for you by selecting over 15 different sizes, colours, and shaped pumpkins and squashes. They have made small piles on the corners of the fields so you don't have to get too dirty.
Grab a photo on top of the hay bails and explore the corn maze and the back of the farm.
Tickets cost £5 which will cover up to 4 people. It is £1.50 for every additional person.
Foxes Farm Produce – The Pumpkin Patch, Green Lane, Aldham (just off main road Halstead A1124), Colchester, CO6 3PR
Alternatively, you can take bus route 88.
5. Cammas Hall Farm
Slightly further outside London on the Hertfordshire and Essex board is Cammas Hall Farm. A family-owned and run business you can visit all year round picking different fruit and vegetables. In October the farm-grown over 20 varieties of pumpkins are ready to be picked.
Cammas Hall has two mazes to explore, The Ghost Town and Tooth Scary. On the weekends and school holidays, they will fire up the bbq and pizza ovens. There is also a small farm shop where you can pick up your pumpkin carving kits.
Entry for the two mazes costs £3 per person or £3.50 for a family of four. The last entry to the maze is at 3 pm.
Entry to the farm is £2 per person.
Cammas Hall Farm – Cammas Hall Farm, Needham Green, Hatfield Broad Oak, Near Bishop's Stortford, Hertfordshire, CM22 7JT
6. Stanhill Farm
To the South East of London bordering the county of Kent is Stanhill Farm. 17 miles from central London, this Pumpkin Patch makes it one of the closes pick you own fruit and vegetable farms around. Every year in the being of October Stanhill farm turns its fields into a PYO pumpkin patch. 
The pumpkin picking season at Stanhill farm usually starts around the 15th October and runs until a few days before Halloween.
Unlike some pumpkin patches Stanhill farm near London opens for pumpkin picking all week long.
Opening hours are usually
Monday to Saturday: 9:30 – 15:30
Sunday: 10:30 – 14:30
Booking is essential and can be done online through the their website.
Tickets cost £3 Per Person
Stanhill Farm website – Birchwood Road, Wilmington, DA2 7HD
Pin our Pumpkin Patches near London guide for later
What Camera Gear Do We Use
Other Travel Guides